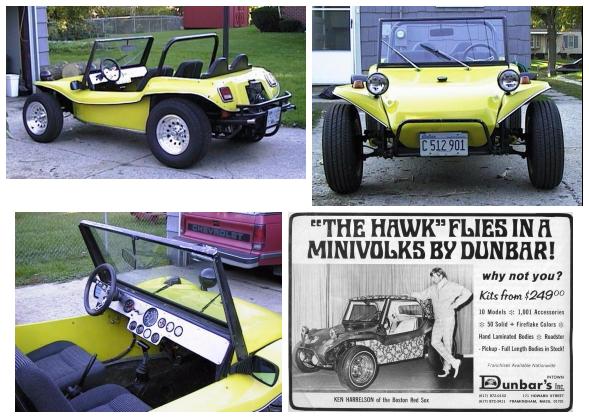 Click on a picture to view a full-sized image (those with older Web browsers can click on the row numbers below).
Row 1: 1 2
Row 2: 1 2

---
Warner Smith from the Chicago area (a guy with an excellent color-sense) sent us a photo of his clean (yellow) restored "MiniVolks" dune buggy...grumbling under his breath about the crummy "dune buggy weather" where he lives. After seeing his buggy we asked him to send us some more photos and a few words about his "baby" for the Y.B.D.B. Buggy-of-the-Month. In reading his e-mail, it looks like he too is cursed with the "more money than sense disease" when it comes to VW's.

The 1969 MiniVolks ad from Dunbar's Inc. in Framingham, Mass. that Warner included is great! Ken ("The Hawk") Harrelson, the famous-in-some-circles Chicago White Sox broadcaster looks a bit younger 30 years ago than he does now! (Don't we all though!)

Now we just need to get Warner and his buggy to Mexico for a little off-roading so we can help him "Baja-proof" his baby.
---
Here's Warner's e-mail...

   Date: Mon, 22 Feb 1999 19:20:32 -0600
     To: "Bruce D. Lightner"
   From: "Webbie" webbie@wwa.com
Subject: Re: Yellow Dune Buggy

Wow...I'm flattered.  My buggy is far from perfect and I still have
lots of plans for what needs to be done.   I purchased the buggy a
little over a year ago, and here's what I've done to it since then:
Put the wheels and tires on it (205/60 front  255/70 rear), replaced
the entire ignition system with a 009 and electronic ignition module,
rebuilt and rejetted the Weber Progressive (aka Holley 5200) carburetor
and replaced the cracked manifold boots that came with it.  I replaced
every brake part, installed new seats, installed the shortie shifter,
built the dash from 1/8" T6 aluminum (and drilled all the gauge holes
with a 3/8" electric hand drill and hole saws!).  Rewired everything,
repaired the gas tank and replaced the sending unit.  Replaced the front
shocks and the steering damper (what the heck...I had the front end
off, right?).  Installed the back bumper, touched up some of the areas
where paint was missing (but not all of them yet..Hehehe).  I'm sure I'm
forgetting some things, but you get the picture.  My current plans are
to dig into the engine and transmission, which I know nothing about.
I was told that the engine is an 1835, but based on the paperwork
that the seller "flashed" in front of me, I thought I saw a 90.5 on
one of the receipts, which leads me to believe that it's really a 1776.
I found a guy out here who knows just about everything about VW engines,
and we are planning on building a monster (2.3 liter) engine for my buggy.
I also want the trans to be gone through thoroughly, as well.  These are
going to happen a bit slower than the rest of the project, because
somebody's broke!  Hahaha!  As I mentioned earlier, I do know that the
model of this buggy is called the "Mini Volks", and that it was produced
by a company called "Dunbar" in Framingham, MA.  I'll send you a graphic
that is the original ad from 1969 for the buggy, it features "The Hawk"
Ken Harrelson of the Boston Red Sox (whoever HE is!  Hahah....I'm 33 and
don't know who he is).  If you need any additional information, let me
know....I'm sure that I'm leaving lots of things out.     Oh yeah...it
also came with a removable hard top with plastic windows that snap onto
the fiberglass body....that's what all the snaps are for on the body.
That's all I can think of right now, Bruce.

                                      Thanks in advance,

                                      Warner Smith
                                      Elgin, IL

---
Last updated Tue Feb 23 22:22:41 PST 1999