Scott Wiley's "Squirt the Love Bug"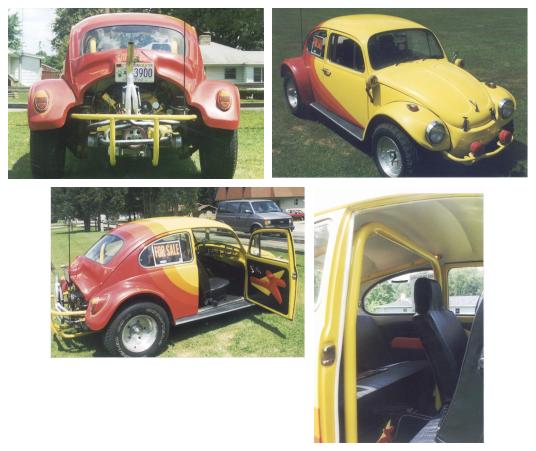 Click on a picture to view a full-sized image (those with older Web browsers can click on the row numbers below).
Row 1: 1 2
Row 2: 1 2

---
The above fine Baja Bug photo's were sent in by Scott Wiley (swiley@kconline.com) from Indiana (who sometimes goes by the name Wiley Coyote). When we viewed the first photo of the very red backend of his Baja bug, we almost put his e-mail in our "spam bucket". However, Scott claims that he's going to paint the whole car yellow "real soon now", so we are going to let him slide...for now. We still can't figure out what one does with a Baja Bug so far from Baja? We theorized that it must involve chasing cows and making alien crop circles...but Scott disagrees!
Scott Wiley's Description of "Squirt the Love Bug"
My name is Scott Wiley and I use the car for just "Baja'in around" (not for chasing cows and making crop circles! Ha, Ha!!) We have 33 acres of woods and trails that make the bug a blast!

Here is some more information on the bug I call "Squirt"

1966 Baja Bug Show Car--Awesome!

1966 VW Baja Bug, "Squirt the Love Bug" Award Winning Street & Off-Road Racing Show Car. From the Garage of Bhaaah-Haaa Racing.
Engine: Newly rebuilt 120 horsepower 1835cc engine. Dual 44mm Dellorto Carburetors, K&N Filters.
Transaxle:VW Bus transaxle, professionally rebuilt. Super Beef-a-Diff Heavy Duty high ratio ring & pinion w/heavy duty shifter.
Brakes: Karmann Ghia Disk Brakes on front Type 3 brakes on rear with cutting/steering brakes.
Suspension: Heavy Duty 6 shock absorber system. American Racing wheels and new Goodyear tires.
Body: Frame off restoration, Full fiberglass front and rear ends. Beautiful Custom paint scheme with Dupont Imron Paint. Front and rear tube bumbers, 6 halogen headlights.
Interior: All brand new totally custom interior, completely repainted interior, hand stitched custom door and rear panels, full roll cage, new headliner, new seats front and rear, built in stereo, Fire extinguisher, padded steering wheel, custom graphics on dash board,
Use for street, show or off-road, Perfect needs nothing, buy today show tomorrow. Very quick! Includes tow-bar over $12,000 invested will sacrifice for $6,500 or serious best offer. We need $$ and need to sell it! So make us an offer! Thanks
---
Last updated Thu Sep 10 11:38:47 PDT 1998