Hank Bruin's Yellow '71 Baja Bug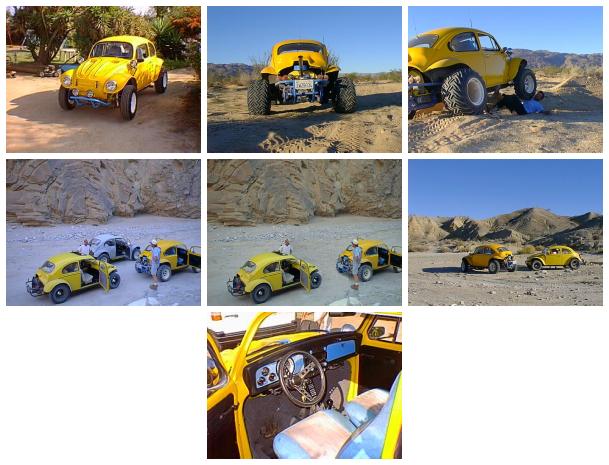 Click on a picture to view a full-sized image (those with older Web browsers can click on the row numbers below).
Row 1: 1 2 3
Row 2: 1 2 3
Row 3: 1

---
Hankb (hankb@cts.com) from San Diego, a potential Y.B.D.B. Club member, sent us photos of his fine yellow 1971 Baja Bug. He also included a photo of three bugs taken at a famous place in the Anza_Borrego State Park (the Fish Creek Wash "Anticline"). Unfortunately, the photo contained a Baja Bug with an "unsupported color", so we had to get out our "eraser"! Hank says he visits the desert often, usually around Ocotillo Wells.
Hank's Description of His '71 Baja Bug
My bug its pretty much stock, I rebuilt the motor and bumped it up to 1641cc and put a little 2bbl. Holley, and an 09 dist. Also a 3-inch body lift and coilovers all the way around. Basically stock but it sure is fun.
---
Last updated Fri Sep 11 11:25:20 PDT 1998