The Manx Conquers Pike's Peak !
Don Wilcox and Ted Trevor are off to the races !
by Don Wilcox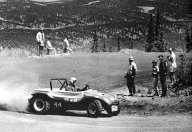 We lived in Southern California from 1958 - 1969, and during that 11 years had an awful lot of fun playing with cars! I have always been a car nut, and went to California straight out of college at the University of Michigan primarily because I figured that I could make a living teaching (that is what I still do) about anywhere there were kids to teach - and California was mecca for a car nut - so that is where we went.
I raced sports cars for the first few years a Volvo sedan, then a Morgan, then a Porsche speedster, then a Devin model C (Corvair engine and trans). When I had the misfortune to total the Devin at an Autocross/Slalom in San Diego, I was left with a very strong Corvair engine, but NO CAR. At this point I quite by accident ran into Ted Trevor. Ted owned Crown Mfg, and had one of the original Manxs that Bruce built for some of his friends before he changed to using the VW platform. It was a purple metalflake, and after knowing each other for less than a week, Ted and I set out to change it from a sand buggy to a Slalom racer, using my engine and his car.
Ted is a genuine genius who in about 2 weeks turned the high-rider into a very different sort of buggy. 13 inch wheels on the front, dropped suspension to the max on both ends, Huge wide tires on both ends (15" in back) that he had recaped in San Francisco on some Goodyear Blue Streak carcasses with VERY sticky drag race rubber, Koni shocks, Porsche brakes on the back, quicker steering, etc. etc. The result was a very quick little car for Autocross type events.
Over the next three years of so, we ran it into the ground, often at two events each weekend, and we had an absolute blast. The exact numbers are fuzzy at this point, but we did take the SCCSCC Slalom Championship overall at least twice. And at one point ran something like 35 events in a row where the car set the FTD for the event. And most of these were large Southern California Championship events with up to 300 cars entered - including LOTs of Cobras, Lotus super 7s, etc...
I did meet Bruce several times through Ted, but I'm sure he probably would not remember me. I was just a high school band director from Anaheim that drove Ted's car on weekends. Both Bruce and Bill Devin were doing some really neat things with the fiberglas car business in Costa Mesa at that time, and Ted's shop was down there too, so there was a lot of interesting contact, bench racing, and general talling of tall tales!
In the summer of 1966, Ted and I wanted to do the Pikes Peak Hillclimb, so I got my USAC license, and Ted decided that we needed TWO cars - one for each of us. In typical Ted Trevor fashion, he built one for the race in the two weeks preceeding the event. This was the blue metalflake car - and it was built to be a race car from the beginning. The body was thinner and lighter, everything on the car was Koni or Porsche or built in Ted's shop. It was almost 200 pounds lighter than the purple car, and had every trick part Ted could dream up on it, including the very first steering brake set up that he built(It made a great limited skip rear end for Pikes Peak's gravel road!,) and it was turbocharged, also.
At Pikes Peak the car was met with a lot of laughter because they had no idea that we had been racing against some "real cars" out in California - where no one laughed at the dune buggys any more! Anyhow, things developed in a way that led to lots of disagreement and mis-information. We qualified at 6:03 something, which was the sort of time we had been running everyday in practice, and we were actually slightly disapointed in it. The furror that erupted when we qualified faster than all the sports cars, all the stock cars, and all but 4 of the Championship cars was a riot! All the "establishment" ranted on and on about how the timing could not possible be right, etc. etc.
Ted and I just figured we'd wait until race day to prove our point. I picked up the huge trophy (which I still have) and the TV set that was a qualifying prize, and just let everyone laugh. Unfortunately on race day, the ground wire fell off the electric fuel pump and after sputtering from the Campgrounds and Brown Bush on for a ways, I ran out of gas at about the gravel pit, up above the w's. I eventually figured out what was wrong, fixed it and finished - about an hour late. Ted ran the older purple car, with almost no practice, and won the class.
We ran the new blue car at the slalom events after that and it was even quicker than the Purple one had been, once we got the turbo lag figured out and fixed. For Autocross type events, the 4 carb engine is actually still my favorite, and I think is quicker. But the turbo was definitely the hot ticket for Pikes Peak with its thin air!
Wow, I certainly did not mean to write a book about all this, but it brings back so many happy memories. Incidently, I still have the same blue buggy that we ran at Pikes Peak. It later finished 4th in the Baja race, won a lot of autocross type events, and still is pretty darn quick. At present it is getting a new set of front brakes in my garage at home. The last time it was run in competition, about ten years ago, it took FTD at the event. Pretty neat little scooter!
Courtesy of Don Wilcox (dwilcox@wvu.edu)... .
---