Third Annual Run - Julian Banner and Borrego Squeeze, April 19-20, 1997
Once again the Manx Dune Buggy Club ventured to Borrego Valley. We stayed at the Butterfield Campground which has a store, restaurant, swimming pool and lots of trees. The weather was perfect. We shared the campground with about 200 members of the Girl Scouts which caused somewhat of an overload at the restrooms ! Friday evening we were entertained by Bruce Meyers and HedgeHog Bob singing songs around the campfire.

The first day we took 52 dune buggies on the challenging run through Fish Creek to Ocotillo Wells. The famous Squeeze and Drop-Off seemed much more difficult this year. Flat tires and bent tie rods caused delays before we got down the Drop-Off. The Drop-Off was a real challenge for a couple buggies that were having brake problems. One buggy tipped on its side at the top of the Drop-Off but there were no injuries and the damage to the buggy was minor. The token Burro (tin lizzy rather than fiberglass buggy) had a lot of trouble i.e. flat tire, broken shifter, too much air in rear, and not enough weight in the front. Dennis Odorico burned out the clutch in his Porsche powered Tow'd and was fortunate to be helped by Andy Felix. Andy found a replacement clutch in Ocotillo Wells and then proceeded to drop Dennis's engine and install the new clutch in the middle of the desert ! Dennis earned the Philippe Award for the most involved failure and subsequent field repair. Lunch was again served in the shade of the beautiful Fish Creek canyon by the crew of our Chuck Wagon (with help from Cindy and Bob). Saturday Evening we were entertained by an excellent Country/Rock band that got a few of the Club members dancing by the campfire.

The second day we again took a circular route via a dirt road through the Oraflamme Mountains and Rodrigez Canyon. The club enjoyed a great sandwich buffet that was carried all the way on top of Bruce Meyers old #4.
---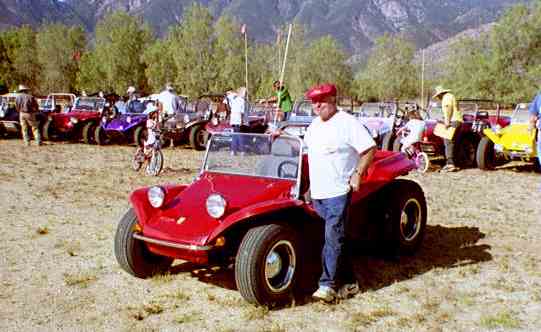 Bruce Meyers lines up the cars for the "Bruce Meyers and Show & Shine" inspection and awards judging.
---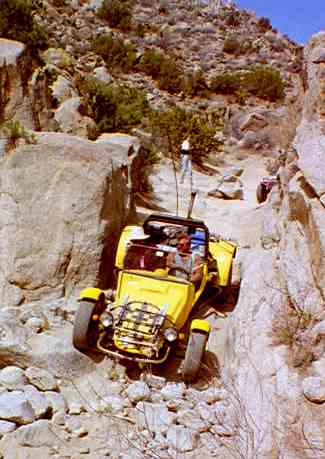 A Tow'd makes its way through the SQUEEZE !
---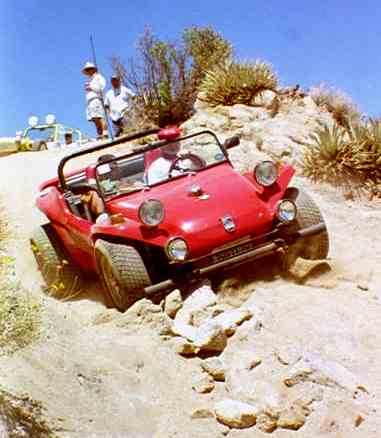 Rudy tackles the one-way (i.e. DOWN) Drop-Off with his Corvair powered Super Manx !
---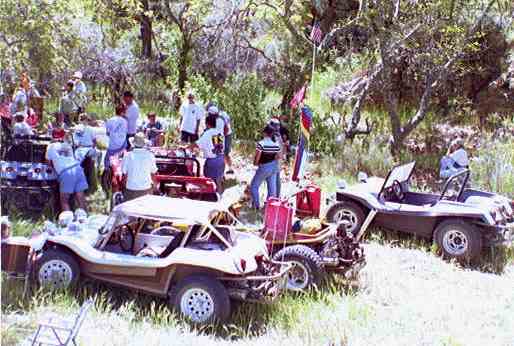 The Club gathers under the Oak trees for a picnic on the Oraflamme Trail.
---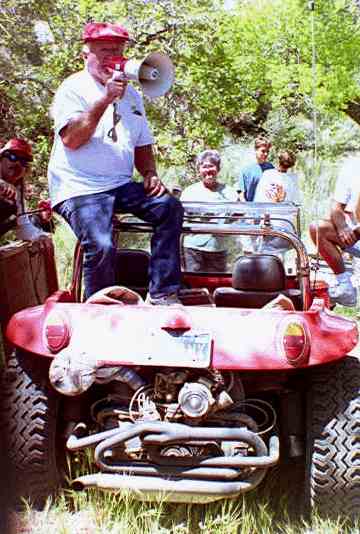 Bruce Meyers takes charge (with Winnie's bull horn) to make announcements.
---
"Old Yeller #2" and Rick's YBDB waiting for the club to continue through Rodrigez Canyon
---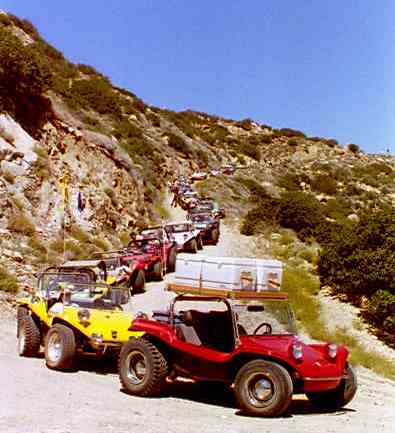 The Club makes its way through the Oraflamme Mountains on its way back to camp.
---
---
"Show 'N Shine" winners for the Third Annual - Julian Banner and Borrego Squeeze Run
Best Overall -Jay Hulet

Best Meyers Manx -David Helland

Best Manx Type -Roger Albert

Best Tow'd -Ron Willingham

Best Off-Road Buggy -Mike Stroh

Best Street Buggy -Rudi & Marlise Mueller

Most Unconventional -Andy & Judi Felix

Most in need of TLC -Norm Matineau & Gaylen Lundquist

"Philippe Award" -Dennis Odorico

Who Came Farthest -Arnie Reay

Earliest Member Present -Philippe Danh

Newest Member Present -Loyd Parish

---
Please support the following businesses who donated prizes to the raffle:
B&R Buggies -Oceanside

BFY Obsolete Parts -Orange

C&B's Bug Shop -Westminster

Don SCO -Belmont

Gene Berg Enterprises -Orange

Gold Mine VW Parts -Whittier

Johnny's Speed & Chrome -Buena Park

Johnson's Bug Machine -Santee

KYMCO -Costa Mesa

Off Road Warehouse -Escondido

OVW -Escondido

Richard's Knife Shop -Valley Center

Sunrise R.V. -Escondido

Steve's -El Cajon

Vee Dub Parts Unlinited -Huntington Beach

Vida Salon -Escondido

VW Paradise -San Marcos