The Steps to Complete Restoration
9. The Engine
---
An engine is donated! 7/3/99
Wow!
I told my buddy John that I would keep the car so that friends could come along on desert and Baja trips and the next thing I know this engine shows up!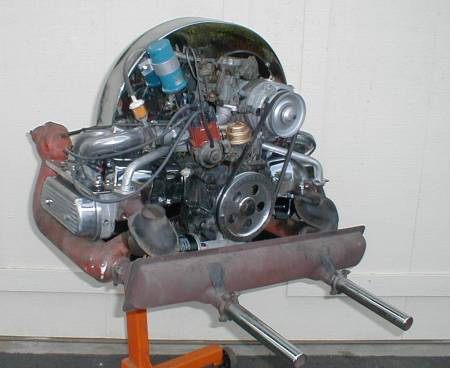 This is a 1600 dual port engine and John (a 356 Porsche restoration expert) rebuilt it before delivering it. It has aluminum valve covers, chrome sheet metal, dog-house cooler, heavy duty oil pump with built in filter, aluminum pulley, and alternator.

So, I think we will save the following steps for an engine restoration project in the future.
Clean engine
Remove sheet metal
Remove heads & cylinders
Test rod clearance
Replace bearins if required
Install new cylinders
Install new heads
Install dog house cooler
Install chrome sheet metal
Buy new exhaust
Aluminum coat (metal spray) exhaust
Install exhaust
Install carb & generator
Install engine
Install fuel line
Install accelerator cable
Last updated Sat July 3 21:10:00 PST 1999 .