To repair the large holes we must use fiberglass mat. There are two large holes in the body. One is in the battery box where a some idiot cut the fiberglass out to put in a larger battery. The other is in the hood where the gas filler spout stuck out. This is a bad place for the filler spout as it is in the bottom front of the tank area that tips down. That configuration prohibits us from filling the last two gallons into the fuel tank. So, the filler spout will be repositioned to the middle top of the tank. An aluminum rallye fuel cap will be placed on the hood.
To begin the repairs, the back side (non gelcoat) must be ground down to expose the raw fiberglass under the rough surface. This allow for better adhesion of the new fiberglass. The outer surface of most fiberglass has a wax coating which not allow the new fiberglass to stick.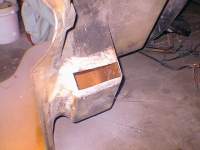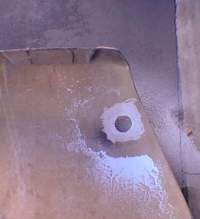 The battery box ...............The hood


After grinding off the surface, cut several layers of glass mat to cover the holes. I used five layers. Then mix the catalyst with the laminating resin.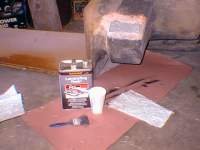 The gelcoat side of the holes must be closed with duct tape to keep the resin form draining out onto the smooth fiberglass surface.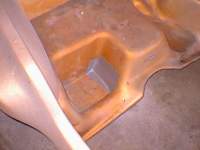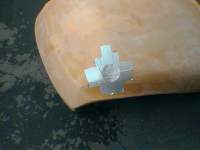 The battery box ...............The hood

The resin should be applied to each glass mat piece before applying to the repair area. Lay the mat on some cardboard and tamp the resin into the mat to eliminate any air pockets in the mat. The apply the wet mat over the hole that is being repaired.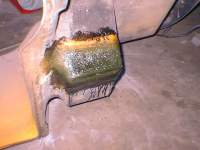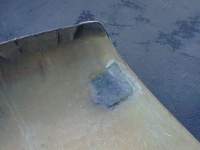 The battery box.................The hood