1999 Irvine Meadows VW Classic
The Manx Club was out in force for the 1999 VW Classic at Irvine Meadows in Irvine, California on Saturday, June 13, 1999. The weather was the typical Southern California hot and everyone got to work on their tan. There was everything one could imagine having to do with Volkswagons, with an emphasis on vintage VW bugs and buses of every kind.


A number of club members brought their buggies to show off in front of the booth

---
Bruce and Winnie Meyer's Manx Dune Buggy Club booth and its lineup of dune buggies of various kinds attracted a crowd all day long. We're not sure all the buggies were strictly "street legal"...at least one had suspiciously wide tires! The lineup even included an early Manx with one of Bruce Meyers' hand-wrought windshields.

Dave Helland brought his gas-powered blender and made smoothies (and an occasional Margarita) for us. We were entertained by a "surf band" with vintage 1960's music. The cool VW-based "woody" pictured below didn't seem to have enough fiberglass to qualify for Club membership, but we did find a "work-in-progress" all-fiberglass "new bug" body set up for VW power at the show, as well as BAT Industries' fine looking fiberglass mini-Hummers, also VW powered.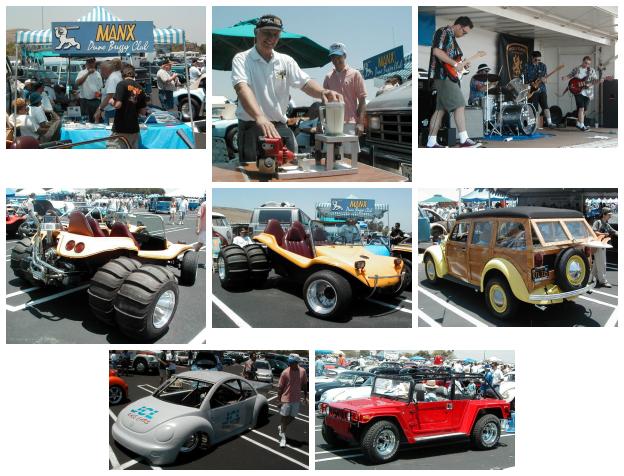 Click on a picture to view a full-sized image (those with older Web browsers can click on the row numbers below).
Row 1: 1 2 3
Row 2: 1 2 3
Row 3: 1 2

---
Photos are courtesy of Bruce Lightner (club member #300).
Last updated Sat Jun 26 11:23:13 PDT 1999