Laugh'n in Laughlin, January 22-24, 1999


Manx Club pauses during the "Sunrise Run" in the mountains on the Nevada side of the Colorado River
(click on photo for larger version)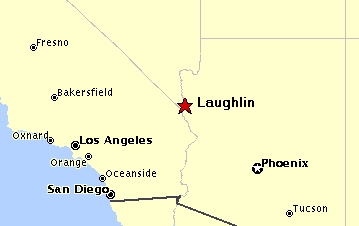 (click on map for more detail)
---
Laugh'n in Laughlin 1999 "Show 'n Shine" Winners
Category
Winner
Best of Show
Robert Yahn #294
Best Meyers Manx
1st - David Helland #50
2nd - Robert Yahn #294
Best Manx-Type
1st - Jay Hulet #120
2nd - Robert Hardin #529
Best TOW'D
1st - Bob Kornoff #909
2nd - Steve Widdowson #469
Best Off-Road
1st - Carl Mayfield #787
2nd - Jerry Isbell #750
Best Street
1st - Rudi Mueller #5
2nd - Bill Grice #740
Best Unconventioal
1st - Andi Felix #26
2nd Bill Grice #740
Most in Need of TLC
Robert Lee IV #769
Farthest to Get Here
Paul Byrum (Pismo Beach) #759
Earliest Member Present
Rudi Mueller #5
Newest Member Present
Tavis Hale #956
&nbsp
---
Laugh'n in Laughlin 1999 Photos
Dave Helland has provided us with a few of his photos from the trip:
Saturday morning breakfast. The Manx Dune Buggy Club breakfast is served from the Chuckwagon. Egg McManx breakfast starts the day.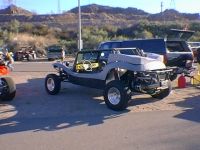 450 Hp Mazada powered buggy draws a lot of attention This car has been built for performance from the ground up. The Mazda is turgo-charged. The suspension is "long travel" with racing shocks.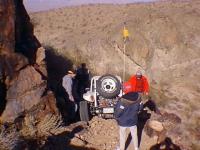 Mark takes the "Difficult Run" into "Hell Canyon" The Club split into three separate groups for Saturday's run. The "Posie Sniffers" got the easy trail for the street buggies, the inexperienced off-roaders, and the "white knuckle" wives. The "Medium Group" got the scenic trail along the top of the ridge. And the "Difficult Run" got the opportunity to slide down hills, jump over out-croppings, splash through the mud, and leave misc. body parts on boulders in the middle of the trail. (Notice the guy on the right - it took twenty minutes to lift him off a rock while trying to avoid a 200 foot clif on the right.)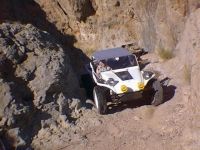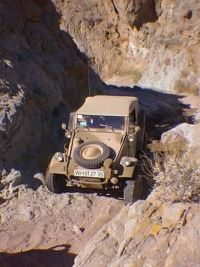 A white buggy and the Kublewagen negotiate through the tight cayon walls.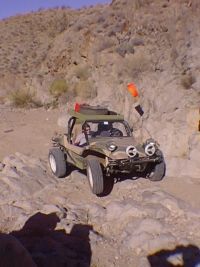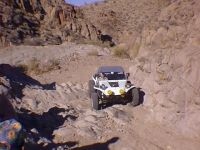 Boulder Climbing This spot generated a little excitement. You first drop into a hole and tilt 45 degrees then punch it to jump over a large rock. You get a little airborne before your buggy clears the outcropping. A few dents in the belly pan are acquired along the way.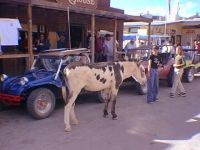 Horse Power vs Donkey Power We all enjoyed a lunch in Historic Oatman Ghost Town. This mining town is located on old Route 66 and is a favorite place for tourists from Laughlin to visit. A gunfight in the street entertained us during lunch. Wild donkeys run free through the streets and beg for carrots from the tourists.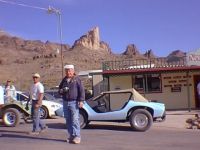 The first Manx SR to attend a club outing Bruce Meyers poses by a Manx SR in Oatman. The B.F.Meyers Co. prduced the SR as a street version of the Meyers Manx. (See History of the Meyers Manx)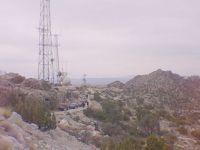 "Sunrise Run" "Sunrise Run" Sunday's "Sunrise Run" took us to the top of the mountains on the Nevada side overlooking the Colorado River and the city of Laughlin. The view from this spot was awe inspiring even though the wind was a bit chilly. We were up and driving early to allow us to break camp by noon to make the seven hour drive back to San Diego.
Steve Widdowson also provided us with a copy of his digital photos from the trip.
---

Last updated Fri Feb 12 16:30:22 PST 1999