Lucky in Laughlin, January 21-23, 2000


Manx Club views the "Sunrise Run" vistas and valleys
in the mountains on the Nevada side of the Colorado River
(click on photo for larger version)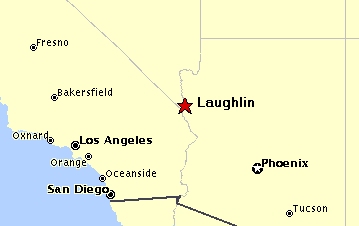 (click on map for more detail)
Our second annual trip to Laughlin, Nevada, was great fun with terrific weather.
We camped on the Colorado river just north of Bullhead City. Local buggy builder Marc Frederick (member #900 above) was kind enough to be our guide again this year. We split into three groups to enjoy either the "difficult", "medium", or the "Posey Sniffer" trails. Marc led the "difficult" capability group out on the trial the first day for some hill climbing, rock climbing, and then lunch in Oatman.
The hill climbing was fun, but not all the group made it up the hills. Some took the bypass roads and a couple others broke down with axle and CV problems.
Lunch in the ghost town of Oatman on Route 66. Lunch with live music in the local pub should not be missed! You can buy carrots to feed the local residents too!
The rock canyon was a little scarey in places.
The sharp rocks took their toll on several tires along the way.
The Show N Shine is always fun and lets everyone get together to talk about buggies and show off their handywork.
Sunday's run took us up into the beautiful mountains on the west side of the Colorado river. We stopped on top of the mountain to gaze out at the vistas and valleys.
Winnie announced the winners of the Show N Shine after the run and served a tastey brunch. Our good friend Jean Chignac from France visited with us during the weekend while in the US on business.
Laugh'n in Laughlin 2000 "Show 'n Shine" Winners
Category
Winner
Best of Show
Guy & Maureen Smith #1201
Best Meyers Manx
1st - Rudi Mueller #5
2nd - Guy Smith #1201
Best Manx-Type
1st - Jim Wayman #1146
2nd - Bill Tilson #1171
Best TOW'D
1st - Jim Hairston #897
2nd - Bob Kornoff #909
Best Off-Road
1st - Carl Mayfield #787
2nd - Gene Condon #729
Best Street
1st - Ken Trongo #1010
2nd - Rudi Mueller #5
Best Unconventioal "FELIX" AWARD
1st - Ross Loveland #1152
2nd Ken Trongo #1010
Most in Need of TLC
Bob Hunter #938
Farthest to Get Here
Bill Loftin #1185 (Colorado Springs CO)
Bill Pettijohn #233 (Waldon CO)
Earliest Member Present
Rudi Mueller #5
Newest Member Present
Bill Nobles #1270
"PHILIPPE" AWARD:
Carl Mayfield #787
Laugh'n in Laughlin 2000 Sponsors
| Sponsor | Location |
| --- | --- |
| ANDY'S AUTOMOTIVE | Vista CA |
| B & R BUGGIES | Oceanside CA |
| BUG SHIELDS BY DINO | Anaheim CA |
| FIBER-TECH | Santee CA |
| FROG SPECIALTIES | Torrance CA |
| GOLDMINE | Whittier CA |
| GREG REED SPORT BUGGIES | Santee CA |
| GROUCHY GAUCHO | Valley Center CA |
| J BUGS | Hawthorne CA |
| JOE'S OFF ROAD & SPEED CENTER | San Jacinto CA |
| JOHNSON'S BUG MACHINE | Santee CA |
| KAR-TEK | Chino CA |
| LATEST RAGE | Alpine CA |
| MANCHESTER FEEDS | San Marcos CA |
| MAYFIELD ANTIQUE & CLASSIC RESTORATION | San Diego CA |
| MULSANNE ENTERPRISES | Torrance CA |
| OFF ROAD WAREHOUSE | Escondido CA |
| THE O.V.W. CO. | Escondido CA |
| P.R.P. - PREMIER RACING PRODUCTS | Temecula CA |
| SO CAL IMPORTS | Long Beach CA |
| SPLIT MOUNTAIN STORE | Ocotillo Wells CA |
| STEVE'S BUGGY SERVICE | El Cajon CA |
| UNIQUE IMPORTS | Mission Viejo CA |
| UP YER BUG | Vista CA |
| VEE DUB PARTS UNLIMITED | Huntington Beach CA |
| VISTA TRANSMISSION | Vista CA |
| WEST COAST METRIC | Harbor City CA |
---

Last updated Sun Feb 27 11:00 PST 2000