Big Bear Bash
July 14-16, 2000
Huell Howser from "California's Gold" attends Big Bear Bash 2000 to video tape Manx Club TV Special


Manx Club set a record for attendance - 106 Buggies!
(click on photo for larger version - 240K bytes)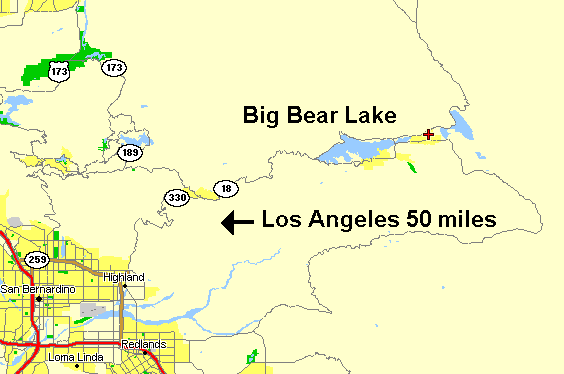 ---
The Manx Dune Buggy Club trip to Big Bear Lake, Calif. was selected by "California's Gold" TV program for a segment of their show to be aired this fall. We again camped at a church campground near the edge of the lake. We had a total of 106 (a new attendance record) buggies show up for the event in the pine trees. The weather was perfect for the event and the TV video taping that took place during the weekend.
After arriving on Friday night and setting up camp, we got an early start the next morning. On Saturday morning we lined up the buggies for the "Show & Shine". Huell Howser and his camera man arrived early and interviewed Bruce Meyers as well as several club members
Bruce Meyers brought "Old Red" for the first time to a Manx Dune Buggy Event. Old Red is the world's first fiberglass dune buggy and has been stored in museums for the last few years. Old Red has been recently put back in running condition and will take part in the upcoming Baja 2000 race festivities. Bruce plans to drive Old Red to the tip of Baja with several other ancient off-road race cars to commemorate the Baja race of the millenium. Bruce is being honored with other early drivers for their participation in the Baja races. Bruce and his friend Ted Mangels set the first record in 1967 driving Old Red from La Paz to Tiajuana (the length of Baja) in 34 hours and 45 minutes.
At 10 AM we split into four groups and left for a trip through the mountains on the east side of the lake. The first group was the "Posey Sniffers" who chose to take the scenic route during the afternoon. They were followed by two intermediate groups who wanted to drive through some of the rough roads but did not want to risk the most difficult trails. Bruce Meyers led one of the intermediate groups with Huell Howser as his passenger. The trip was video taped for the "California's Gold" TV program and we were told that copies of the program will be available from "California's Gold" after the segment airs in the fall (See showtimes and how to order tapes). The most difficult group chose to try some hill climbs that ended up breaking a couple buggies and taking an extra 3 hours to retrieve them.
On Sunday we got up early and left camp at 7 AM. The size of the group necessitated that we split up again, so half drove off the Holcolm valley and the others drove to the top of Bald Mountain and climbed up the rock path to the fire station lookout.



View from the top of the Fire Lookout!
(click on photo for larger version - 272K bytes)
---
Big Bear Bash Sponsers


ANDY'S AUTOMOTIVE – Vista CA
B & R BUGGIES – Oceanside CA
BUG SHIELDS BY DINO – Anaheim CA
FAT IVOR'S – Valley Center CA
FIBER-TECH –Santee CA
GOLDMINE – Whittier CA
GREG REED SPORT BUGGIES – Santee CA
GROUCHY GAUCHO – Valley Center CA
INTERSTATE VW – Escondido CA
JOHNSON'S BUG MACHINE – Santee CA
KAR-TEK – Chino CA
KUSTOM 1 WAREHOUSE – Orange CA
KYMCO MOTORSPORTS – Costa Mesa CA
LATEST RAGE- Alpine CA
MB AUTOMOTIVE – Upland CA
OFF ROAD WAREHOUSE – Escondido CA
THE O.V.W. CO. – Escondido CA
P.R.P. – PREMIER RACING PRODUCTS – Temecula CA
RALF FULLER RACING – Orcutt CA
SO CAL IMPORTS – Long Beach CA
STEVE'S BUGGY SERVICE – El Cajon CA
UNIQUE IMPORTS – Mission Viejo CA
UP YER BUG – Vista CA
VISTA TRANSMISSION – Vista CA
VW PARADISE – San Marcos CA
WEST COAST METRIC – Harbor City CA


---
Manx Dune Buggy Club "Show 'N Shine" Winners


BEST OF SHOW   Jim Guthrie - #33

BEST MEYERS MANX 1st  -  Rick Brown - #731
                 2nd -  Jim Guthrie - #33

BEST TOW'D  1st - Steve Widdowson - #469
            2nd – Bob Lee - #121

BEST OFF-ROAD  1st– Gary Dionne - #764
               2nd – Roger Edwards - #1100

BEST STREET  1st – Marlin Albert - #1019
             2nd – Rudi Mueller - #5

BEST SR   1st – Bill Grice - #740
          2nd – Rob Hardifer - #771

MOST IN NEED OF TLC  - Doran Dobranszky - #761

PERSON WHO DROVE THE FARTHEST – Bill Loftin - #1185
                              – from Colorado Springs, Colorado

NEWEST MEMBER PRESENT – William & Helen Lejak - #1428

PHILIPPE AWARDS – Galvin Bartlett - #182
                - Tavis Hale - #956
                - Gary Dionne - #764

---
| | |
| --- | --- |
| | Bruce meets Huell Howser from "California's Gold". |
| | Bruce is interviewed for the TV program. |
| | Bruce takes Huell along for the trip into the mountains. |
| | Old Red is the world's first fiberglass dune buggy. |
| | Rick Brown wins "Best Manx" with his newly completed yellow car. |
| | A beautiful SR sits next to Jim Guthrie's Life Guard Manx ("Best of Show" for Jim). |
| | This yellow buggy has excellent off-road engineering. |
| | The club lines up before driving off for Sunday's run. |
| | Climbing the mountain to the Fire Lookout station. |
| | Looking up from the trail head below the Fire Lookout station. |
| | Two Manx Resorters make the trip to the top of the mountain |
| | |
---
Last updated Sun Jul 23 13:27 PDT 2000