Bruce & Winnie Tour France, May 14-29, 1996
Bruce & Winnie Meyers flew to France as guests of Jacky Morel - Publisher of Super VW Magazine.

The local Dune Buggy / Off-road club hosted a tour through the Pyrenees Mountains. Each day the dune buggies gathered at the local Inn in the village of Montory then traveled through the lush landscape of the Pyrenees. Bruce and Winnie were loaned a Meyers Manx to travel with the many varieties of French buggies (including Baboulins, Apals, Apal Jets, French Buffalos, and L-M Buggies).

Bruce was given the opportunity of driving and reviewing a beautiful Bounty Hunter buggy for a future magazine article.

The weather was wet but the spirits were high and the trip was thouroughly enjoyed.
---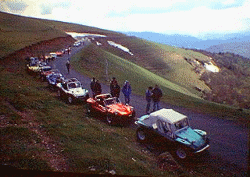 The dune buggies on a scenic ridge in the Pyrenees (note the snow !).
---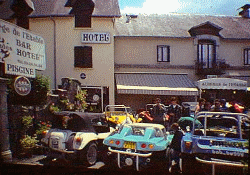 The buggies gathered at the Inn at start of each trip.
---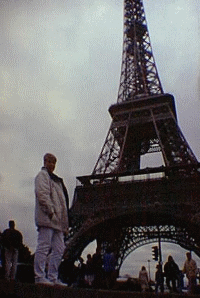 Winnie Meyers in front of the Eifel Tower.
---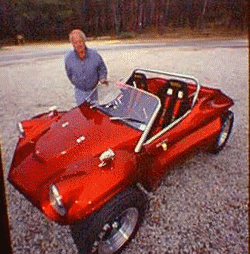 Bruce with the Bounty Hunter that will be featured in an upcoming magazine article.
---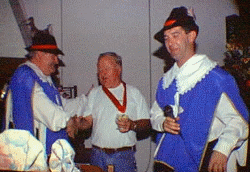 Bruce is inducted into the Musketeers Club of Montory (birthplace of one of the original Musketeers).
---