International Manx Club Activities
The Midland Buggy Club treks to VW Euro 98 car show in Holland
by Simon Chadwick
Here is my report on our 'adventure' to VW Euro 18th,19th,20th September 1998.
Thursday 17th afternoon sees Rick and Oriel (good friends) with their white race buggy on a trailer and Ruth (my wife) and myself (CHAD) in our Jade green street buggy set off to meet Rob and Rachel (other good friends) in their Purple street buggy, half way along the M40 motorway towards London. About 10 miles from home Rick looses a ramp off his trailer on the M5, which flies onto the hard shoulder and cuts through one of the trailer brake cable. Rick phones up the trailer company and gets the parts registered post to the hotel where we are stopping in Dover (port) overnight.We meet up with Rob and Rach and some 5 hours latter arrive without further incident in Dover. (215 miles in total).
After a good meal and sleep we wake up early on Friday to fix the trailer brake and, after getting the cars out of the tight parking area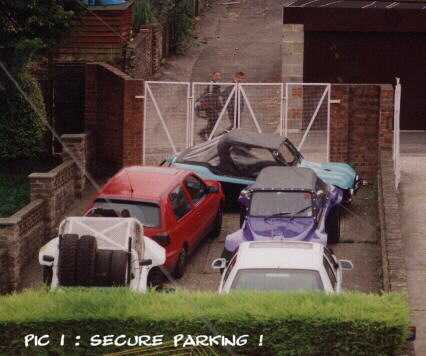 We then head for the 10:30am ferry.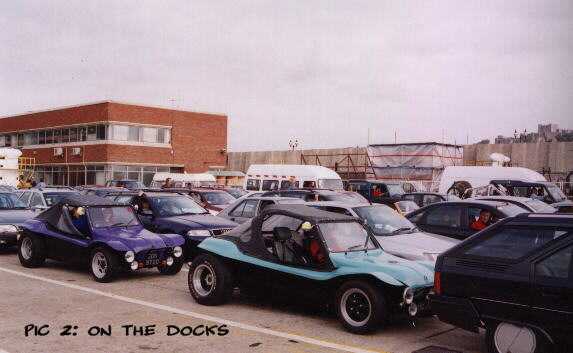 On the boat there were numerous karmann ghias, beetles and campers making the trip, although our three buggies were the only one in evidence on that day. After a very calm 2 hour crossing we drive off the ferry and, after adjusting Rob's rear brakes we head out of Ostend (Belgium port) to start the 150ish miles to the VW Euro showground near Venlo in Holland. Little did we expect what would happen next.
20 miles out of Ostend, Rob looses his rear wheel at 70mph!!! He travels across two lanes, the hard shoulder and down a 15 feet 45 degree bank.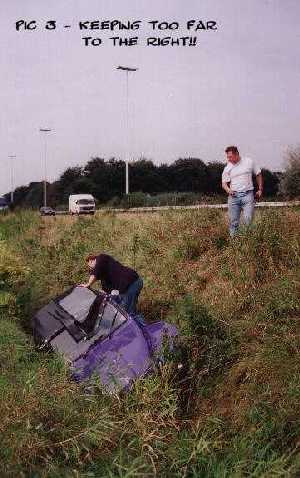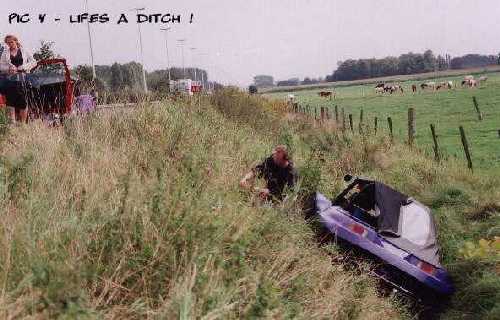 Luckily no one is hurt, although Rachel is suffering from slight shock, and originally it looks like there is, remarkably, no serious damage to the buggy bar a few minor bumps and scrapes. Luckily two Belgium lorry drivers stop and phone the local highway Police. Then Police arrive and, after checking no one is hurt they phone a local garage to come and 'rescue' Rob's buggy. The garage winches purple out of the ditch for us to find that the rear off side swing axle drive shaft is bent The garage then takes us to their workshop to assess the damage and allow time to make a decision on what to do next. At the garage - garage RONNY of Altaar, Belgium, we discover the owner, Ronny, races a Porche 2.4 litre powered grass track beetle. He also has a few scrap beetles out the back with the necessary parts required to repair purple. After 2 to 3 hours of work we decide the work is too much to do if we want to spend any time at the Euro show, as both the engine and gearbox need to be removed on a swing axle. At this point RONNY is absolutely brilliant to us. He allows us to leave purple under cover in his garage for the weekend and agrees to trailer the car back to Ostend docks to meet up with us on the following Monday morning. Finally we pack 6 people and all gear into 1 beach buggy, 1 VW golf and the trailed race car and head for VW Euro. We arrive at the showground around 10:00pm on the evening (just 1 hour before the gates are locked!) and get the last three camping spots on the whole site.
Saturday morning seems quite tame in comparison to whats gone on before. The weather so far had been good but it starts to rain around 10:00am. Rick unhooks the race car, heads for the off road track and gets stuck on very soft sandy trials track.

However a quick change of tyres and Rick heads for the hill climb, (read 30 / 40 foot sand hill), competition where he puts on good show until he snaps a fan belt. You would think this would not be a problem at a VW show, however Rick runs a 2.8 litre ford pinto engine in his buggy. He therefore takes a break out and drives to Venlo to find a suitable part. Rain stops around 1:00pm and the sun comes out big time and the temperature begins to sore. Myself and Rob spent the afternoon looking at hundreds and hundreds of Dutch and Germany buggies (some nice, some not so nice). The Dutch go very much for an off road style of buggy rather than the more common street buggy style as seem in Britain. We then spend the afternoon getting merrily drunk on cheap cheap Grolsch, whilst relaxing on a 'blow up' three piece suite.
Rick returns from playing in the sand and we party on till it's very dark and get some good sleep.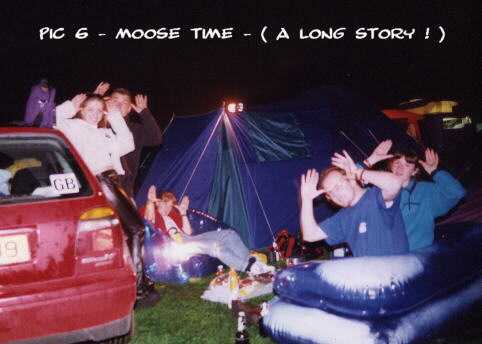 All day the Dutch Buggy Club folk have been fantastic to all of us, taking us under their wing. They seemed very appreciative that we had bothered to take a race car with us to participate in their organised events.
Sunday morning we arise to the sound of Germans packing up at 6:00 am (presumably to beat the crowds) and the Lost in Space theme blaring out from some young cal lookers beetle, (the problem with camping on the 'noisy' camp site). To be fair the noise was limited, unlike some British shows where young lads are intent on showing each other just how loud their stereo systems go, particularly in the early hours of the morning.
Rick takes on the Dutch at the infamous mud drag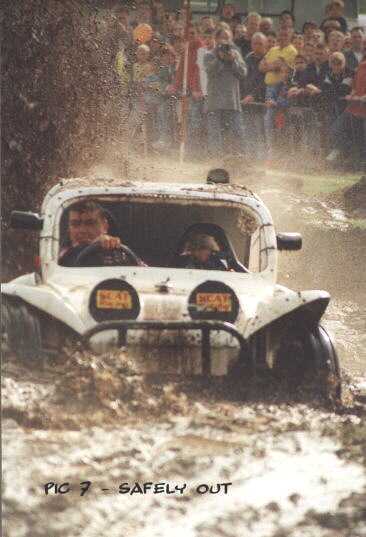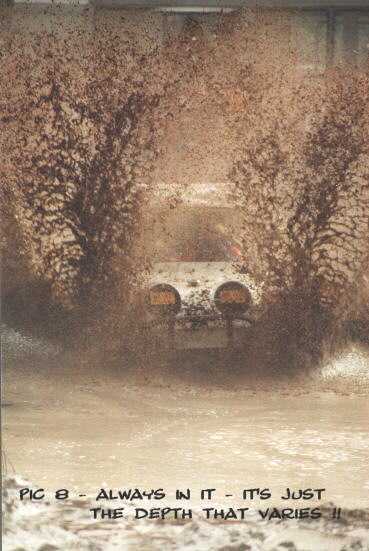 and during the heats runs fantastically, recording the fastest time of the day to get him into the finals. Unfortunately, during the final his engine finally fills with water and stalls and hence he finishes forth overall. Better luck next year.
There is a large crowd watching the drag racing on the sprint track, and a large turn out of traders makes for interesting shopping for us. As Venlo is 30 miles from the Belgium border and 20 miles from the German border, payment was interesting as, basically you could pay in either Gelders, Belgium Francs, Deutchmarks,or a combination of all three, a little on the confusing side.
The show and shine was well attended and of the five buggies in their class, two were British (Mel Baker's superb Gp and his friends new Renault V6 mid engined powered SWB Rat).
We then spent three hours getting off site (thousands of folk, single lane exit) and headed for somewhere to stay near to the garage where Rob's buggy is being stored. We finally end up in an Ostend Hotel at round 10:30pm,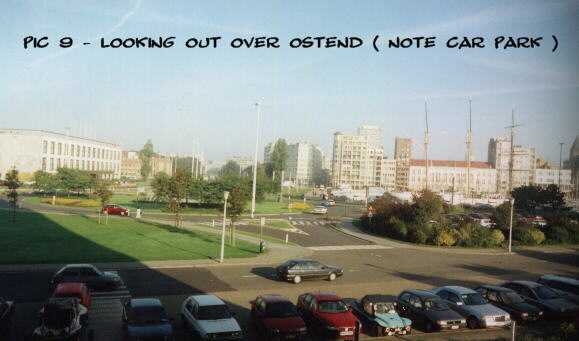 where we get a more than welcome shower before going into town and getting a superb Chinese meal. The best Chinese I've had since San Francisco.
Monday morning and Rob rings garage Ronny who drops off his car around 10:30 am at the docks. We park up Purple and get four or so hours shopping in the beautiful city of Ostend. Rob manages to limp his car onto the ferry and off the other side in Dover where he cons green flag recovery service into taking him home. One last embarrassment in that I run out of petrol at the passport control desk and had to push my car through customs!!
Finally arrive home in the Midlands around 9:45pm - knackered? you bet. Unlike Rob, I managed nearly a thousand miles over the weekend in my buggy and with all that happened, it was still a fantastic time and we are already planning for next year.
I would just like to thank all the folk who helped with the accident or with Rick 's problems whilst racing. The Dutch and Belgium people are some of the nicest in the world and we will have no fear in attempting this trip in the future.
---
Last updated Tue Sep 29 16:00:00 PDT 1998