Oct '98 Buggy of the Month
The honor of Oct '98 Buggy of the Month went to Ken Techak Manx Member #882 Moreno Valley, CA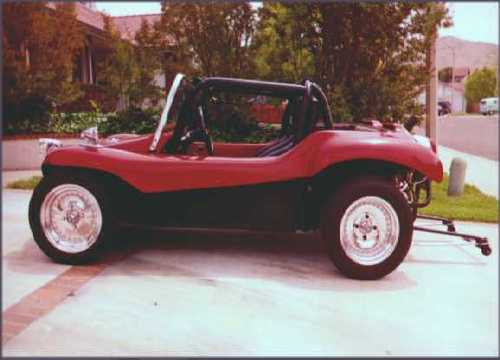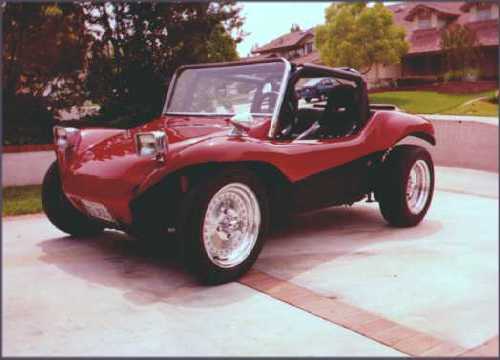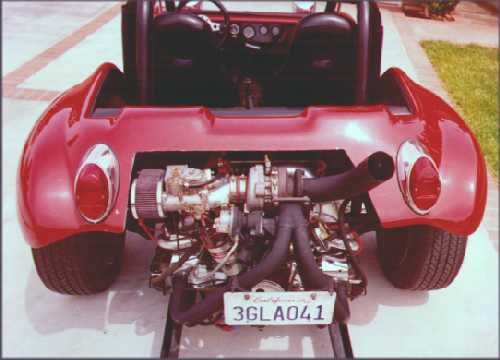 Ken sent in these great pictures. Send in yours for a chance at Buggy of the Month !
Ken writes :
Believe it or not I picked up this cream puff for only $2,000 cash from the Recycler in Torrance, CA. I was able to jump on the ad "before it came out in print" by checking the Recycler Website on Monday ( http://www.recycler.com )
Buggy was as you see it here, complete with a hot running turbo charged 2110cc engine...48DOCE Weber, 40mm ventures, 8 to 1 compression, 297 duration cam...about 250 HP! I've never driven a buggy that pulled so hard in 3rd and 4th gear!!! Bad thing is that it was setup for sand drags so the motor was not streetable....after tearing the motor down and seeing I would have to replace over $1,000+ in parts to get it where I wanted it, I traded the turbo motor for a brand new, turn key dependable 1955cc motor...which included the following:
76mm CW Crank, 8 doweled
90.5 Barrels
New Universal Case...w/10mm Case savers
120 Cam, w/race lifters
solid rockers
Ported & Polished 40 x 35.5mm heads (also matched ported)
8 to 1 Comp.
Dual 44 Weber carbs, 140 main jets, 55 idle, acell. pump arm on top pin
Baja Exhaust with Quit Muffler
1 1/2 qt. sump with full flow filter, Gene Berg Oil Pump
Dog House oil cooler w/36hp fan shroud, German cyl. tin.
009 Dist., Blue coil with Comp-u-fire Ing. 30 deg. @ 2,500 rpm
12lb Flywheel with 1700 lb clutch...spring disk
Solid mounts
Swing Axle w/ 4.37 R&P
H.P. Approx.. 120
0-60 mph 5.5 seconds...top speed 110+ mph. With 28mpg!

Buggy is on a 66 shortened VW Pan.
The body is by Stevens Boat Company made them back in 1968-69. Does anyone have a brochure for this body ???
I'm in the process of converting it over to street/ dirt...so I can go on one of your club outings, very soon!
Sincerely,
Ken Techak
Manx Member #882
Moreno Valley, CA
mlmpro@jps.net

P.S. My first DB was a Myers Manx...had over $10K in it...but had to sell it several years ago...second buggy was sort of half dune buggy half truck..which was also very rare...sold that too...as I did not like the fact I could not take extra passengers in the rear : )
---
Last updated Wed Sep 9 10:31:33 PDT 1998