Aug '98 Buggy of the Month
The honor of Aug '98 Buggy of the Month goes to Stefan Klärner, WIESBADEN, GERMANY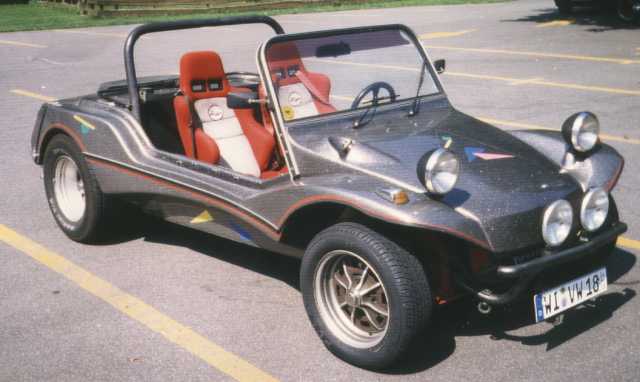 Stefan sent in this great picture. Send in yours for a chance at Buggy of the Month !
Stefan reports :
DATASHEET
Street Buggy, Type APAL-L
VIN: TP18A532878
Model year: 1982
Engine: 2.0 litres, Type IV (original transporter engine), 70 DIN-hp, no further modifications
Wheels/Tires front: 5.5 x 15, ET 6mm EMPI SprintStar, 195/60-15
Wheels/Tires rear : 8 x 15, ET -25mm EMPI SprintStar, 275/60-15
Car is absolutely street legal with full German TÜV-conformance.
Since the APAL company (location:Blégny, Belgium) stopped the production of all Buggy bodies and parts, I am planning to manufacture replica bodies and panels / spare parts.
Owner: Stefan Klärner, WIESBADEN, GERMANY
Email: buggy0204@aol.com
Last updated Fri June 19 6:50:00 PDT 1998