August '00 Buggy of the Month:
Jon Carlson - Indio, California
Member # 63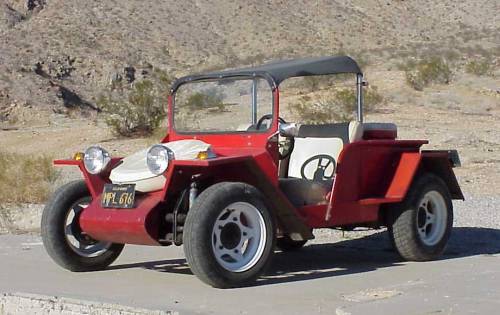 Jon sent in this description of his buggy. Send in yours for a chance at Buggy of the Month!
Jon writes :
My buggy is an original EMPI (Engineered Motor Products Incorporated) Sportster. It has an all metal body on a shortened 1965 VW pan. The buggy has been restored with a rebuilt 1600cc single port engine, new suspension components and brakes. It has been converted to 12 volt and has new white spoke wheels and tires.
The body being of all steel construction is very solid and rattle free. The stock single port engine has a Bosch 009 distributor, a four into one extractor exhaust system and low restriction K&N air cleaner. This engine makes very good tractable low RPM power and excels at driving up rocky washes at very low speeds.
The buggy's body is designed with a short pick up bed which is ideal for carrying, an ice chest, camping equipment, pets and other supplies.
Submitted by:
Jon Carlson, Indio California
Member # 63
email: jcarlson@local.net