July '00 Buggy of the Month:
David Jones, Morten, Wirral, Merseyside, U.K.
Member # 678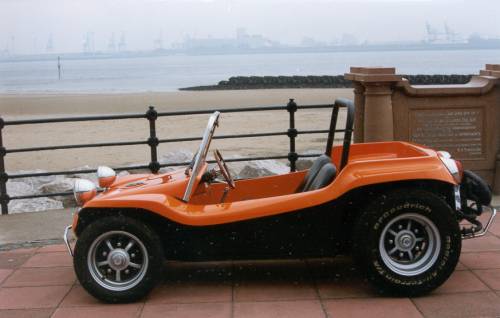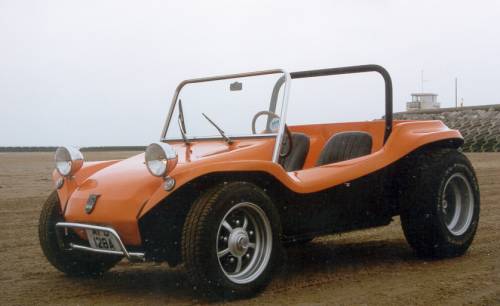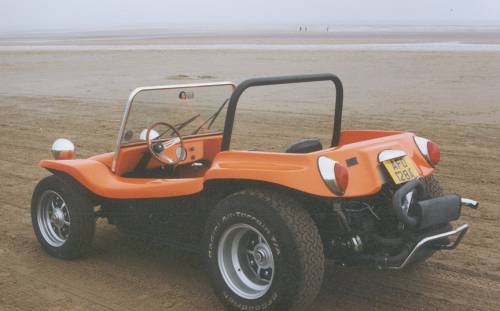 David sent in this description of his buggy. Send in yours for a chance at Buggy of the Month!
David writes :
I've wanted a Meyers Manx since I first saw a photo of one in March 1968. They never made it to the U.K. or Europe though, so I've had to put up with various Look alikes and wanabees over the years. I heard late last year through the grapevine that Mel Hubbard was approaching the Meyers with the intention of producing authentic Manx's here in England. I got straight in touch with him and bought the second one out of the mold in December 1999.
Despite moving house and changing jobs I've put the car together in what little spare time I've had. I got it on the road in mid March 2000. It's bright tangerine in color, I've tried to keep it as simple and authentic as possible using 1960's style wheels and parts where I could. I'm delighted with the way it's turned out. It really is the car of my dreams!
I've included a few photos and some specs for your information, or for possible inclusion in the Web site's "Buggy of the Month". What do you think?
Specifications:
Body - Manx II Serial Number UK 00 002
Color - Tangerine
Chassis - 1967 (Ball joint front, Swing Axle rear),
Left hand drive (I couldn't bring myself
to build a right hand drinve Manx!)
Engine - 1641 cc, twin port heads, 40mm Kadron - Solex Carb kit,
Quiet Pack Muffler + Header, 009 distributor,
Blue Coil, Engle W100 cam.
Wheels - EMPI Sprintstar 5 lug, 10 X 15 rear, 5-1/2 X 15 front
Tires - 10.5/31 X 15 B.F.G. rear, 185/65 X 15 front
Interior - Low back vinyl bucket seats, 13 inch dishedwooden steering wheel,
D.D.S. shifter,
late bug 100 mpg speedo w/ integral fuel guage.
Roll bar from Meyers Manx U.S.A.
Exterior- Front & rear bumpers and headlights were hand luggage from last
year's vacation in Florida (form Fisher Buggies).
Windshield and badges are from Meyers Manx U.S.A.
Thanks to my wife Helen, my children Barry & Sally,
the Meyers, and Mel Hubbard for making it all possible.
David Jones Member #678 Morten, Wirral, Merseyside, U.K.