July '00 Buggy of the Month:
Mike & Lisa Monahan - Chino Hills, Calif.
Member # 1357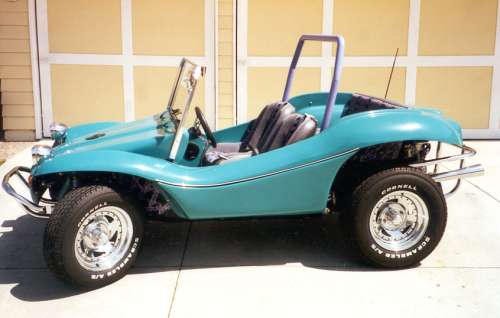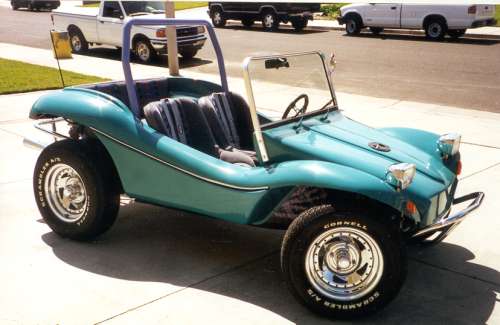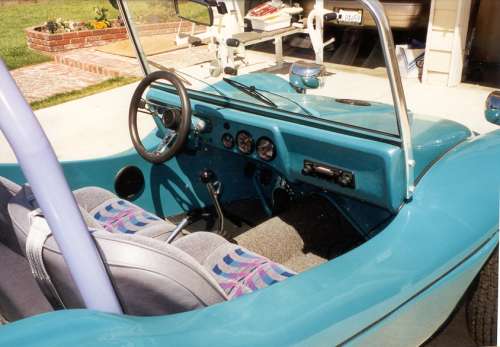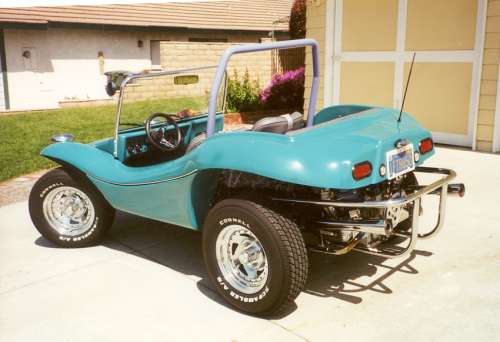 Mike & Lisa sent in this description of their buggy. Send in yours for a chance at Buggy of the Month!
Mike writes :
I built my first fiberglass dune buggy in 1972 using a 1964 VW pan and drive line. As money was tight during college I was only able to keep this car for 2 years before selling it. Years later when my daughter wanted a VW Bug during high school I again became interested in VW's while reconditioning this 1970 for her. She damaged the front end and I found it cheaper to buy a complete car rather than just the parts to fix it. With this 1969 VW I started my new glass bodied dune buggy. This project took me over two years to complete but I am having a great time driving it now that it is finally done. Still have a couple minor glitches to work out but the car came out looking great and does draw a lot of looks when it is on the road.
Specifications:
1969 pan - Shortened 15 ½ inches
Fiberjet Enos 500 Body w/ Side Pods
Color Matched Paint (teal) on Front Suspension, Steering Assembly, Brake Drums and Back Plates
Floor Carpet
VDO Guages (Speedometer, Tach, Fuel, Oil Pressure & Volt)
AM/FM/Cassette Stero w/4 Speakers
1776 Engine
Dual 40 Kadron Carbs
Dual Port Heads
Balanced & Counterweighted Crank
Engle 110 Cam
Dual Chrome Exhaust
Chrome Coil Over Shocks
Beard Front Seats w/Matched Fabrick Rear Seat
Pro Series 3 Point Seat Belts
CWI Chrome Wheels
15 X 5 Front w/P205-75R15 Tires
15 X 7 Rear w/P235-75R15 Tires

Mike & Lisa Monahan

e-mail : brogdex@ix.netcom.com