June '98 Buggy of the Month
The June '98 Buggy of the Month honor went to Simon Chadwick from Birmingham (near Stratford upon Avon) ENGLAND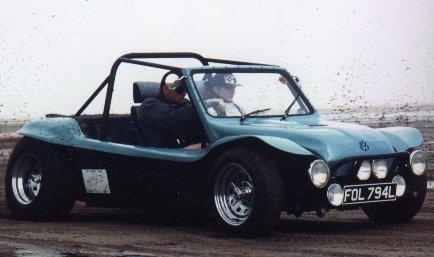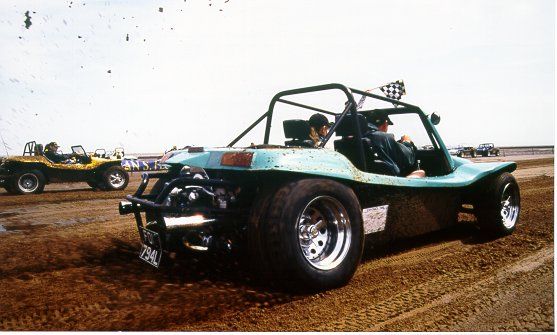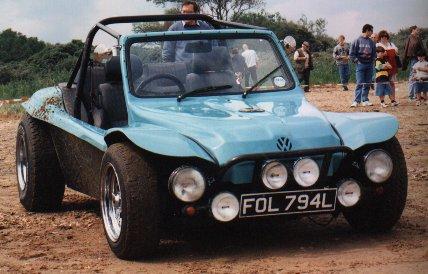 Chad sent in these great pictures taken by John Clewer. Send in yours for a chance at Buggy of the Month !
Chad reports :
Let me introduce myself. My name is CHAD (Simon Chadwick really!!) and I am, for my sins, the chairman of the all new Midland Buggy Club over in good old England. There were a number of us who owned varying styles of beach (dune) buggies, rails and bajas in the midlands region of England - around Birmingham (near Stratford upon Avon) - who were members of various VW clubs in the area. The trouble was all those beetle and camper owners took exception to us cutting up their 'classics' and generally having good fun.
We therefore decided to start a new club in Jan of 1998 solely for buggies, bajas and rails. So far this has proved a raging success with over 30 members in the first four months. This is not bad considering we live possibly furthest from the beach than anyone else in the UK!!!
By the way I am one of very few UK Manx Dune Buggy Club members - # 572
DESCRIPTION:
-Extensively remodeled FF Rat Mk2 LWB buggy (very popular 1970's UK kit) with GP mk2 bonnet and windshield
-1972 fully restored and lowered restored floorpan-Brand new lowered front axle beam
-10x15 rear, 7x15 front moonshine chrome wheels
-Re-upholstered Renault front seats, custom made rear seats
-Securon 4 points harnesses-Scat comp "T" shifter
-Hand made custom 6 point roll cage
-PAINT: one off custom mixed Jade
-All new 12v electrical system
-Rebuilt twin master cylinder with all new brake lines
- Changed braking bias from front to rear wheels due to removing original beetle shell weight.
- Renault rear lights
- Hand made dash and centre console
-Type 4 120 mph speedo and clocks
- Hinge forward bonnet (hood!) to make access of wiring etc easier.
- Scat shifter.
- Extensively re-worked rear seat area to drop rear seat by some 6" so adults can actually travel in the back at a sensible seating height!
- Full aluminum checker plate floors halves.

MOTOR:
-All rebuilt lightened and balanced 1600 dual port motor
-Twin 40 IDF Weber Carbs with polished manifolds
-Fully powder coated Tin wear to match body colour
-Hi capacity oil sump
-Scat C35 camshaft
-Bosch 009 distributor
-Hidden Bosch Blue coil
-Alternator conversion
-Braided fuel line
-36 Hp style fan shrouds
-TRANSM: Stock 1300cc swing axle transmission

I hope this may make it as the first UK Buggy of the month!!
CHAD - for the MBC, UK.
---
Last updated Sat May 16 17:42:37 PDT 1998