May '98 Buggy of the Month
This month the honor of May '98 of the Month goes to Steve Cossette from Sorel, Quebec, Canada.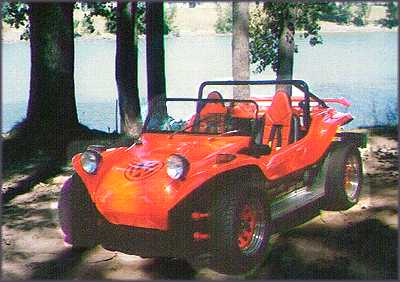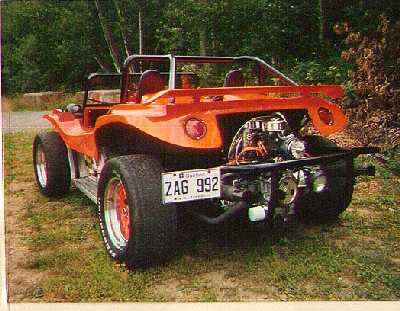 Steve sent in these great pictures. Send in yours for a chance at Buggy of the Month !
Steve reports :
Hi! I'm Steve from Sorel,Quebec,Canada. These are pictures of my 1971 Street Dune-Buggy. I built it in 1996-97.This is an old dream who comes true after hours and hours of good work!!! It's winter here now, I'm waiting for the sun!!! Hi! to all foreing VW fans and owners.........
DESCRIPTION:
-1971 restored floorpad(shortened)
-Brand new lowered front axle beam
-Coil over shocs
-15" Keestone wheels
-IRC racing seats
-Deist 4 points seat belts
-Scat comp "T" shifter
-Jamar alu. throttle pedal
-Custom roll bar
-New lowered winshield
-Costum fiberglass rear trunk
-PAINT:House of Colors (Orange neon)
-Costum molded aluminium dash
-All new electrical system,wires,lights,switch,fuses, instrumentation,etc...
-Rebuilt twin master cylinder with all new oil lines and adonized fittings

MOTOR:
-All rebuilt oversized 1649cc dual port
-Hi capacity oil sump
-Hight performance by pass filter pump
-Bosh 009 distributor
-Bosh Blue coil
-Polished generator
-Dual exhaust system
-Costum aluminium pulley and cover
-Braided fuel line with billet look alu. filter and adonized fittings
-Cromed fuel pump
-36 Hp style fan shrouds
-Alu. spring loaded pushrod tubes
-Chromed valves covers,sump plate,backing plate,coil cover,cylinder shrouds,gen stand,torsion bar caps,etc.
TRANSM:Stock Super Beetle transmission (rebuilt)

Bye everybody and have a good time driving your VW !!!
P.S. Excuse my english, I try to do my best...
Steve. (04/03/98) 22:37h
---
Last updated Sat May 16 17:42:37 PDT 1998