November '99 Buggy of the Month:
Robert Hardifer - Lakeside Calif.
Manx Club Member #771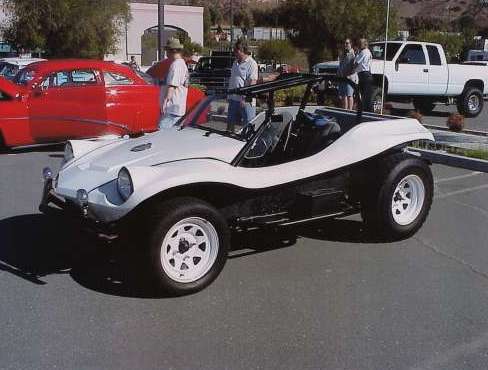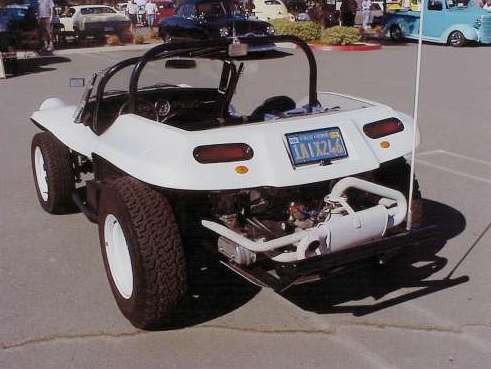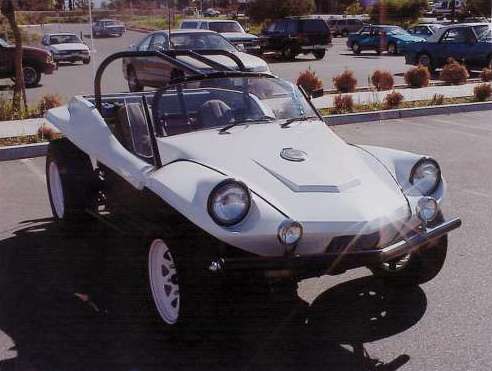 Robert sent in this description of his buggy. Send in yours for a chance at Buggy of the Month!
Robert writes :
Da Bounty Hunter

Body : Bounty Hunter

Paint : 1996 Nissan Pearl White by Tweeds auto body, San Diego, CA

Chassis : 67 VW Bug shortened 14.25"

Tires & Wheels:
Front 205/60/15's on 15 x 6 white spoke wheels
Rear 3Ox9.5xl5 BFG all terrain on 15x 8 white spoke wheels

Brake proportioning valve
Wildwood Seats
Pape Engineering Roll Bar & cage / by Roger Lopez, San diego, CA
CB radio : Uniden 5 1 OX

Engine:
VW Type 1, 1600
Displacement : 2500 Cc
Builder: Bernie Bergman, Escondido CA
Crank : 90mm full circle
Rods : Chevy 327, 5.7 length, 2"dia
Pistons : 94mm Cima
Cam : Web Cam hydraulic
Heads : factory dual port racing
Valves : 40mm intake x 35.5 mm exhaust
Compression Ratio : 8.0:1
Ignition : 009 Bosch w/ Petronix ignitor and Flame thrower coil
Carburetion : Dual 40mm Delortos w/ CB upgrade kit
Exhaust : Baja Stinger w/ quiet pak
Flywheel : 200m, 13.5 lbs
Clutch : Kennedy 1700#
Oil cooler : doghouse w mesa cooler added

Special modifications:
Full flow oil filter/pump
thermostatic controlled fan on mesa oil cooler
stock dia aluminum pulley w / sand seal
aluminum valve covers
Bug pak breather system
Fuel pressure regulator set @ 3#

Transaxle:
1967 VW Type I swing axle
Builder: Transform, Long Beach, CA.
Ring & pinion: 4.37:1 w/ stock gear ratios
Special Mods:
Super Diff
Welded Hubs
Steel Forks
Race Crosshaft
Hard Keys
Heavy duty side cover

Owner : R.M.Hardifer
Manx Club Member #771
619-561-1054

The car is for sale !
---