October '99 Buggy of the Month:
Steve Parker, Fond du lac, Wis.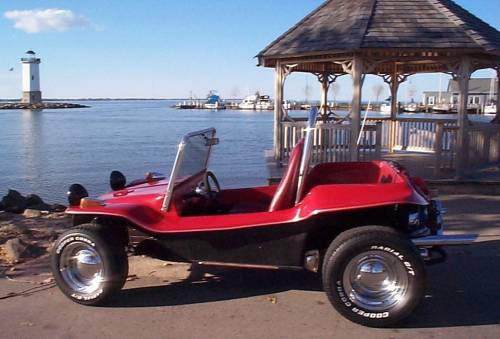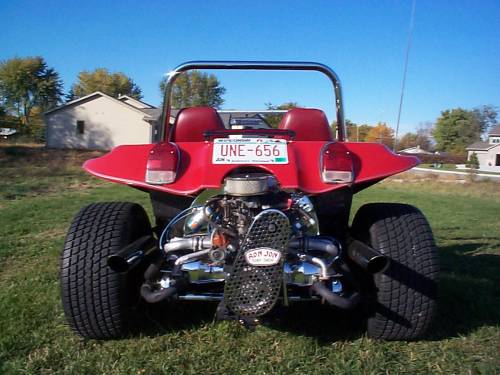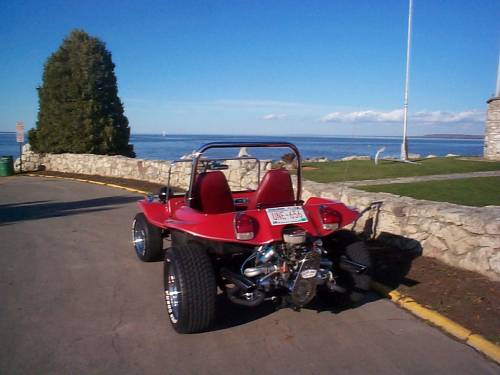 Steve sent in this description of his buggy. Send in yours for a chance at Buggy of the Month!
Steve writes :
I purchased the buggy from a co-worker. I first saw a picture of the buggy about four years
ago and told the owner that if he ever wanted to sell it to let me know, well one day at work
he asked if I was still interested. I told him I would be there the next weekend to pick it up.
I live in Fond du lac Wis. and he lives in Milwaukee (about 60 miles south of me) . I went to pick it up and wouldn't you know it , about 10 miles out of Milwaukee it started to pour And I mean POUR . The buggy at the time did not have a top or wipers so it was an interesting ride home.
Originally it had a 37 hp motor. I located 2 1600 (the two 1600's were complete
motors with all the shrouding) and 1 stroker motor from a friend for $200 and put one of
the 1600's on it. The 37 hp motor was pretty tired .
I re-wired the system and now am planing on going through the brakes. Once the mechanics are up to my standards the I will work on the body.
I also am not sure if it is a Manx or not, I don't think it is, any help would
be appreciated. Now that I have it I can't believe how many people want to buy it from me.
Two car dealers alone in town have already made offers. Guess what....NOT FOR SALE!
I'm in the process of trying to get some Crager SS rims for it and new tires.
Thanks for your time and I hope to see my buggy as the BUGGY OF THE MONTH.

Steve Parker <parker@dotnet.com>
---