April '98 Buggy of the Month
The honor of April '98 of the Month goes to Glenn Knight ,Roanoke, VA.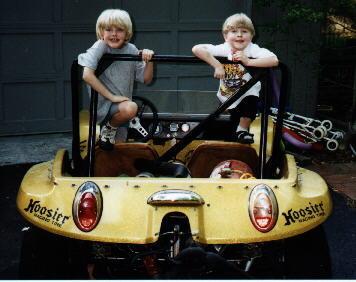 Glenn sent in this great picture. Send in yours for a chance at Buggy of the Month !
Glenn reports :
Back in the sixtys my father built this buggy (pic enclosed). I was in ninth grade. He built it for slalom and street. We put in a 1388cc, dual weber VW so we wouldn't be in the same class as Don Wilcox and Ted Trevor's corvair powered cars. As I recall the gold metalflake body was the third off the bolt on the pan mold at Bruce's shop. The mechanicals were completed at Crown Mfg. in Costa Mesa with the help of Ted. We were very successful throughout the sixties and I still occasionally take it out to the autocrosses here in the east. It is still a blast to drive, very quick. After an engine blow up we increased the cc's to 1835 and have since changed over to dual Kadron carbs. The car has 13 inch chrome wheels with Hoosier racing slicks all around.
Glenn Knight 5048 Falcon Ridge Rd. Roanoke, VA.
---
Last updated Sat May 16 17:42:37 PDT 1998