Contender for April '99 Buggy of the Month:
Craig Johansen, Fergus Falls, Minnesota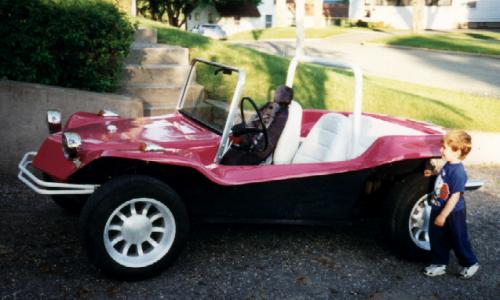 Craig sent in this description of his buggy. Send in yours for a chance at Buggy of the Month !
Craig writes :
I would like to enter my buggy for the Buggy of the Month.
I live in Fergus Falls, Minnesota, USA.
The pan is from a shortened '61 VW Beatle. The motor is a stock 1600cc with tuned exhaust. It's licensed and street legal.
When I bought the car in 1995. Purchase price $350.00. It still was it's original color, orange. It wasn't in too bad of shape except for the color.I deceided to do a full restoration, which is less difficult than it sounds. It took me only 6 months. I still need pattern to make a top. If anyone knows where I can find one, let me know.
Then it was what color to paint it. That goes back to the day I bought it. The wife said I could buy it as long as she got to pick out the color. Well, when she said she wanted this color. I said " Sure, it's a great summer color". (Really suprised her) It's called Sharp Pink. I think it fits the car. The only bad part is the nicknames. The little kids call it the 'Barbie Car', and some of the older folks call it the 'Pepto Mobile'.
I love the "LOOKS" though.
Also, if any one knows what make it is, I would like to know. I know the body came from somewhere in Colorado in 1972, and it's not a Manx. I would like any info you would have.
Thank you,
Craig Johansen
e-mail - cmjohan@prtel.com

---