Contender for April '99 Buggy of the Month:
David Walton, Houston, TX.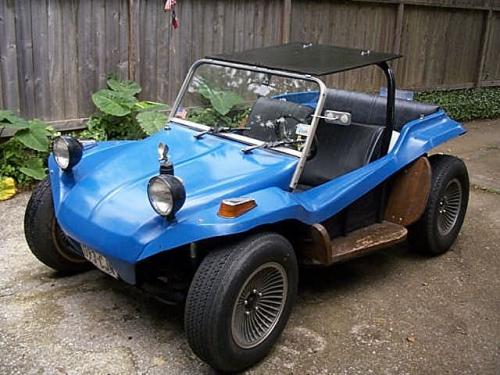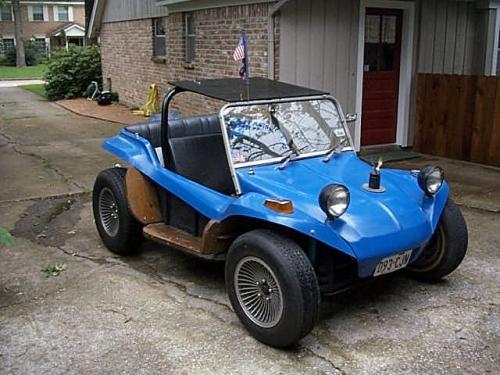 David Walton sent in this description of his buggy. Send in yours for a chance at Buggy of the Month !
David writes about his buggy named "the Blue Hippie":
I bought my dune buggy out of the paper from a man in Deer Park, TX who had been transferred overseas. His two daughters had grown up riding in it and sold it to me for the huge asking price of $1,000. It is a Meyers Manx wanna-be which has been diagnosed by Bart Shoemaker as an original Sears Rascal. It has a 1970 standard beetle frame and pan (with matching VIN and registration numbers) but has a king-pin beam. Perhaps they used an older "front-half" of a chassis when they shortened my 1970 one. It has a stock (all original) 1971 1600cc VW engine and a very sexy looking brass eagle attached to its gas cap on the hood.
The only modifications I have done to the "Blue Hippie" is that I removed the heater boxes and changed the exhaust to two separate glass packs. I also added a temporary plywood top--just to test the utility of a "lid".
The top is a GREAT idea, as it keeps my head out of the constant Texas sun, but it is also a bad idea in that it is made of plywood. Plywood was not intended for this use as it looks pretty out of place on the buggy. My brackets also rattle like crazy. I hope to be the first in line when Bruce and Winnie Meyers start offering a fabric or fiberglass buggy top--or I'll have one made using David Helland's design. No matter what, now that I've tried one, I highly recommend a top as an accessory.
The buggy was originally had a blue metal-flake gel coat which someone later primed and painted cobalt blue. The previous owner had bought wheel adapters in order to use Lincoln Continental rims for the wheels. Front tires are 195/75/15 and rears are 235/75/15.
My wife and I have three kids--all under the age of twelve. Our daughter gave the buggy the name "The Blue Hippie" because when I towed it home from Deer Park, she came running out of the house yelling, "You bought a hippie car, a hippie car...oh, Dad, it's soooo cool!" My wife's first words were in the form of a question, asking "What is this thing?" But, a few minutes later, you should have seen her sitting in the front seat, smiling like an idiot, as we went for our first ride around the block. My only regret is that I didn't know about these things twenty years ago!
David Walton
Manx Dune Buggy Club Member #940
Houston, TX
dwalton@seismicexchange.com

---