Feb '99 Buggy of the Month
The honor of Feb '99 Buggy of the Month went to Jerry & Peggy Litchfield of East Wenatchee WA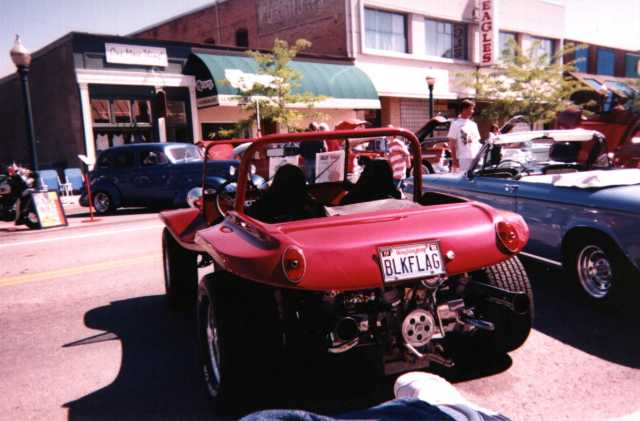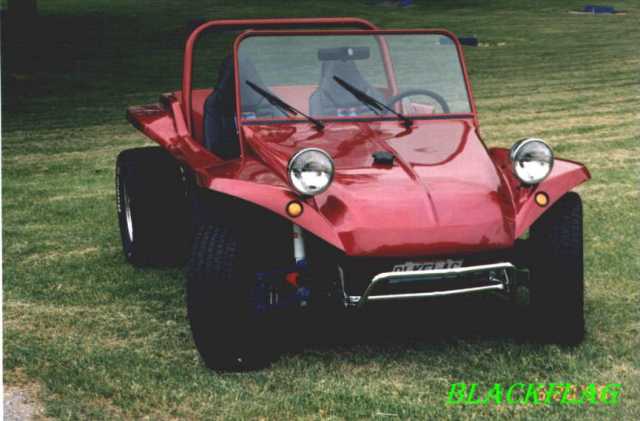 Jerry sent in these great pictures. Send in yours for a chance at Buggy of the Month !
Jerry writes :
Just caught your web page here in East Wenatchee WA. and thought I would drop you a line and show the buggy I brought back last year. We only get to use it about three months out of a year but it stores well and it is always fun to break it out on those first nice days of spring. I am unaware of the make and model of the body. I have looked for id marks but have had no luck so I will send you a picture and maybe one of your club members will recognize it.
The pan is a 1961 with a swing built by KCR into a Pro Street version. The engine is a new VW AS-41 case w/Full Flow and a extra 2 qt. deep sump. the crank is a Scat Counter Weighted w/standard bearings and the stock 69mm stroke that with the 92mm pistons makes it a 1776cc. Rod are Bug Pac Racing Rods, and the heads are Scat "mini" D-port with stainless valves and duel springs and along with that It has a Scat H/D 1.4 to 1 ratio rockers riding a scat C-45 cam. Carbonation is a pair of Weber IDF 44s on Weber intakes and the spark is furnished by a MSD Al-6 with a MSD Billet Distributor W/MSD tach Adapter and a Blaster coil from MSD All of the engine machine work was done by Scat and Proformance in Orange CA. Electrical is powered by a Bosh Alternator the rest is pretty much chrome and fluff.
The front ends is a Link Pin and the shocks are KYB gas-adj. The paint is PPG 2001 Mazda RX-7 red mixed in a field mix 2. I increased the russet pearl to 90grm per QT. and sprayed 2 Qts on. The clear is also PPG 2001 and There are four coats on it . The firs coat has 30 grms of blue pearl and the last three are just clear.
The rest of the Buggy is straight forward, Cockpit gages poly foam seats, etc. The plan is to put the engine on Giggle Gas prior to spring break out and with the 8 to 1 compression it should be fun on the street which is the only duty that it sees besides the Show & Shine meets. The car has placed 1st in the Homebuilt or kit car class 2 0f 3 shows and won loudest pipes in the third. I know that I could make more power with the "stinger" exhaust, but I like the Nostalgia look and sound. Well, that my buggy and I would like to enter it in the Buggy of the Month contest.
Thank you
Jerry & Peggy Litchfield
Jerry & Peggy Litchfield email: jerpeg@gte.net
---