Previous Buggy of the Month
The previous honor of Buggy of the Month went to Mel Baker of Croydon, Surrey, England.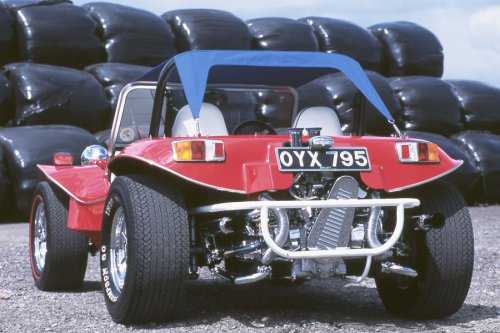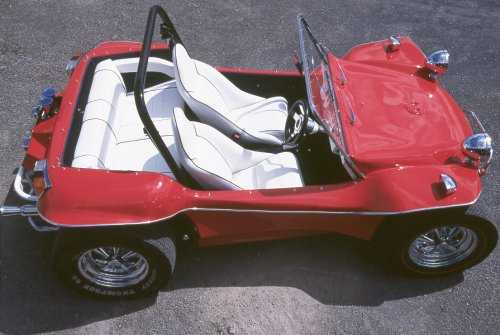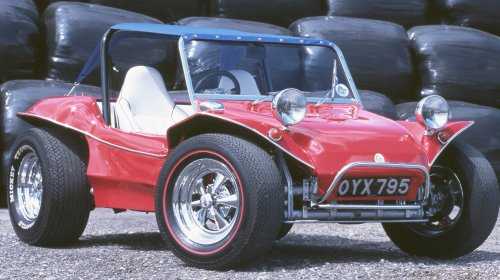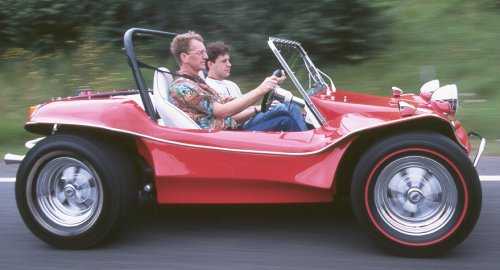 Mel sent in these great pictures. Send in yours for a chance at Buggy of the Month !
Mel Baker of Croydon, Surrey, England submitted these photos of his red buggy. Mel purchased the G.P. Mark 1 (short wheelbase) buggy in 1989 and completed the restoration in 1997.
The car is on a 1954 chassis and was converted to a buggy in 1979. It was sold 5 times before I bought it in 1989.
G.P. was one of the first manufacturers of fiberglass buggies in the UK - this particular style being very close to the Meyers Manx.
The car was originally fitted with a 1500cc, small Solex carburetor engine. This was changed to a Volkspares reconditioned 1600cc with a single Dellorto DLRA 36mm carb with a polished C.B. Performance manifold.
Extensive restoration began in 1990 including respray (Ford Rosso Red). Since then, every winter I have worked towards improving its mechanics and looks.
The white vyanide upholstery was fitted the Autotrim in Bournemouth in 1995.
The gearbox was reconditioned by Microgiant.
This car has won several events over the last 5 years. Most recent was best in class & best interior at the British Volkswagen Festival.
Specifications:
Frame
-1954
-lowered 5" with Sway-a-ways
Shocks
-Front - C.B. Performance
-Rear - KYB (gas)
Brakes
-Front - CNC disc brake kit
-Rear - VW 40mm
Wheels - Crager Super Sport
-Front - 7 x 15
-Rear - 8 x 15
Tires - Mikey Thompson
-Front - G60-15
-Rear - L60-15

Engine
-Stock 1600cc
-Valves - stainless
-Valve covers - chrome Scat
-Carbureator - Dellorto DLRA 36mm
-Manifold - C.B. Performance
-Air Cleaner - K&N
-Ignition- Pertronix Ignitor
-Distributor - 009
-Coil - Bosh blue coil
-Exhaust - Ansa chrome

Transmission
-1966 standard
-Shifter - Gene Berg short shift

Mel recently built a Meyers Manx II (UK)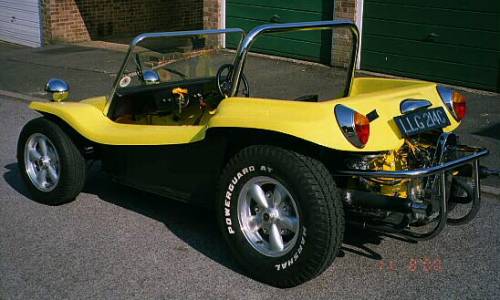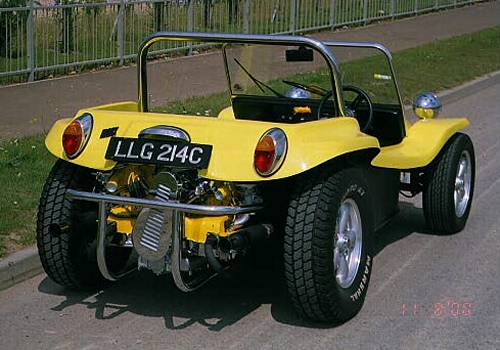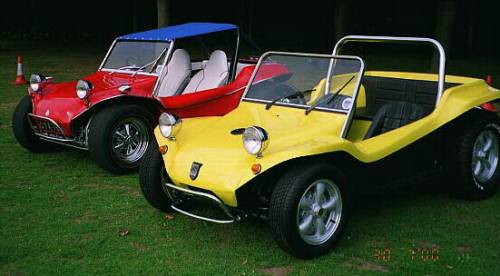 The Meyers Manx II body kit is available in the UK, being produced by Manx Buggies (UK) in Northfleet, Kent.
www.manx-buggies.co.uk
This yellow Manx was built by Mel Baker over 7 months & completed in May 2000. It was the 3rd one out of the mould. Windscreen, roll-bar, crash bars & seats were all purchased from Manx Buggies (UK).
Engine is standard 1600 Type 1 twin port with twin Weber 34ICT carbs (from CB Performance). Wheels are Empi 5-spoke, 5.5 x 15. Tyres (rear) Marshall Powerguard AT 30 x 9.50 x 15 ; (front) 185 x 65 x 15. 1964 shortened floorpan.
Mel runs the Southern Dune Buggy Club in the U.K. which has many members from all over southern England owning fibre-glass buggies.
The Southern Dune Buggy Club can be reached via:
www.sarsen.dial.pipex.com/sdbc/
e-mail : SDBC@england.com
tel: 020 8657 9320
Mel and Sandra also own a VW Beetle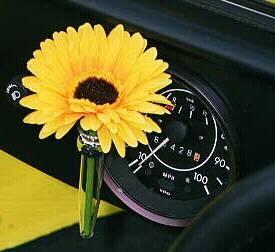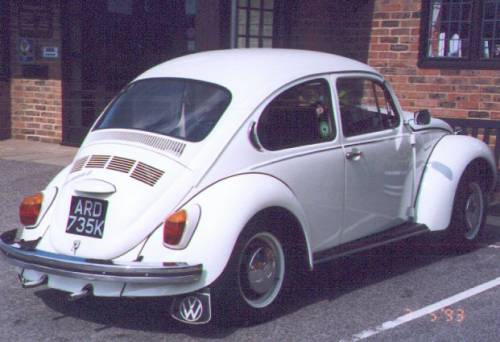 VW Beetle
Model : 1302S
Year: 1971
Colour : Pastel White
Engine : 1600 twin port (standard)
Condition : immaculate

Many Thanks
Mel & Sandra Baker
Croydon, Surrey, England.
email: mel@charlwood.demon.co.uk
---
Last updated Wed Sep 9 10:31:33 PDT 1998