Big Bear Bash, July , 1998
The Big Bear trip of 1998 took us again to Big Bear Lake, Calif. This year we camped at different campground near the edge of the lake. The campground was another church campground so we were on our best behavior. The campground was beautiful and clean. We hope to go back to the same spot next year. The weather had been "iffy" earlier in the week but cleared up for our event.

The first day's trip took us through the mountains on the nourth side of Big Bear Lake. We first went into the mountains above the northwest side of the lake and then made out way through Holcolm Valley on the northeast side. After Holcolm Valley Road we made out way to a spot where about half of the group took a challenging trail up the side of Gold Mountain. From the top of Gold Mountain we again gazed athe the terrific view of Big Bear Lake and the San Bernadino Mountains.
BIG BEAR BASH SPONSERS


ANDY'S AUTOGLASS	Vista CA
B & R BUGGIES		Oceanside CA
BEARDS UPHOLSTERING 	Buckeye AZ
BUG SHIELDS BY DINO	Anaheim CA
FIBER-TECH	        Santee CA
FROG SPECIALTIES	Torrance CA
GOLDMINE VW PARTS	Whittier CA
INTERSTATE VW USED PARTS & CORE CO  Vista CA
JOHNSON'S BUG MACHINE	Santee CA
KAR TEK         	Chino CA
KYMCO MOTORSPORT	Costa Mesa CA
LATEST RAGE	        Alpine CA
MANCHESTER FARMS 	San Marcos CA
MULSANNE ENTERPRISES	Torrance CA
OFF ROAD WAREHOUSE	Escondido CA
THE OVW CO	        Escondido CA
RACE READY	        Chula Vista CA
RICHARDS KNIFE SHOP	Valley Center CA
SPLIT MOUNTAIN PARK	Ocotillo Wells CA
SO CAL IMPORTS	        Long Beach CA
SONRISE RV	        Escondido CA
steve's	                El Cajon CA
UNIQUE IMPORTS	        Mission Viejo CA
VEE DUB PARTS UNLIMITED	Huntington Beach CA
VISTA TRANSMISSION	Vista CA
WEST COAST METRIC	Harbor City CA

MANX DUNE BUGGY CLUB "SHOW 'N SHINE" WINNERS

BEST OVERALL	Jeff Terry #441

BEST MEYERS MANX - 
   1st Place	Jeff Terry #441
   2nd Place	Roger Parsons #360

BEST MANX-TYPE - 
   1st Place	Billy Wormsbecker #864
   2nd Place	Carl Moss #343

BEST TOW'D - 
   1st Place	Steve Widdowson #469
   2nd Place	Bob Lee #121

BEST OFFROAD - 
   1st Place	Greg Reed #780
   2nd Place	Jerry Isbell #750

BEST STREET - 
   1st Place	Rudi Mueller #5
   2nd Place	Jeff Terry #441

BEST UNCONVENTIONAL - 
   1st Place 	Andy Felix #26
   2nd Place	Jeffrey Jay LeBouef #541

MOST IN NEED OF TLC	Larry Wormsbecker #863

"PHILIPPE AWARD  
   #1	Bill Brooner #703
   #2	George Ray #279
   #3	Jim Guthrie #33

FARTHEST TO GET HERE	Bill Pettijohn #233
			(Salida, Colorado)

EARLIEST MEMBER PRESENT	Rudi Mueller #5

NEWEST MEMBER PRESENT	David Huether #866

---
Bruce Meyers rallies the troops for a trip through the mountains using the CB radio. (photo: Jon Carlson)
---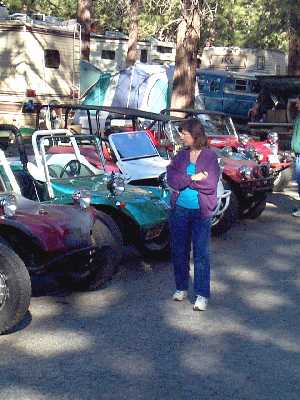 The group lines up for the "Show n Shine". (photo: Jon Carlson)
---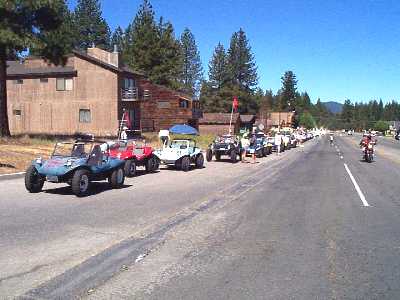 The group waits for stragglers to catch up before climbing into the local mountains. (photo: Jon Carlson)
---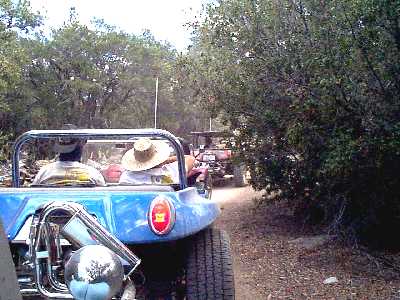 The buggies make their way through heavy brush on top of Gold Mountain. (photo: Jon Carlson)
---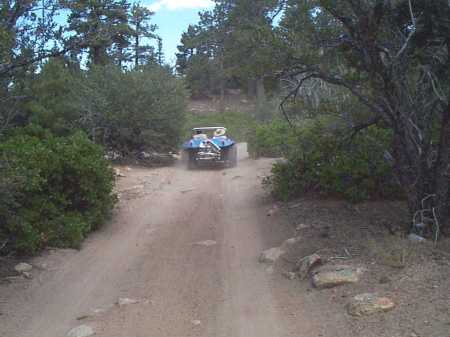 Driving through the trees near Big Bear is a delight when the deserts below are 100+ degrees. (photo: Jon Carlson)
---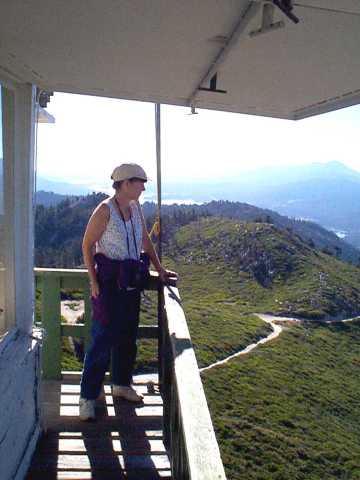 The trip to the fire look-out yields fantastic views. (photo: Jon Carlson)
---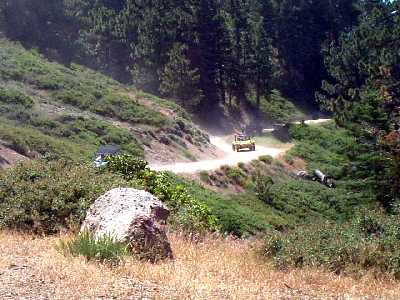 A typical dirt road through the National Forest. (photo: Jon Carlson)
---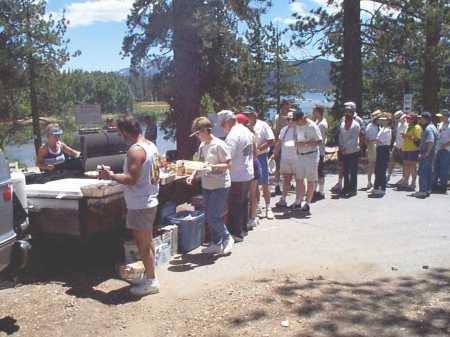 Lunch is served at the edge of Big Bear lake. (photo: Jon Carlson)
---
Dave Helland (member #50) has also put together a "clickable" photo collage with pictures of the event.
---