Baja 1,000/San Felipe Run, Nov. 1996
The 1996 San Felipe/Baja 1,000 run was quite successful ! We had 21 cars opposed to 13 cars at the event last year. We arrived a Pete's Camp Thurs. afternoon with 7 of our members from France ! Friday we drove across the hwy. about 7 miles to the El Diablo dry lake in time to watch the first motorcycles race south. After staying long enough to see a few of the trophy trucks and buggies in pursuit, we then changed viewing areas in order to watch them chase north on the pole-line road of huge woopty-do's.
By Saturday most of our participants had arrived and so we trekked out of camp for a days journey that took us south on the beach, through a great roller-coaster canyon (more fun than you can believe !). After gassing up in San Filipe we continued south of town to find a passage back to the beach. As soon as we hit the soft sand we promptly got stuck ! Time to air those tires down some more. When Bruce asked Frank Rodrigues "how are you doing?" he replied "Great! Now that I'm running on 3-1/2 lbs !". We stopped at a little beach Cantina called "Percibu" where some of us imbibed in "bowls" (a local drink served in a bowl with many straws) . Finally, we stopped in San Filipe on the way back to camp for some great shrimp tacos.
Sunday, we took a short trip up the beach and did a little hill climbing on the way back. Most people left by noon-time in order to get to the border before the big crowd, but those of us still there made a trip to Puertocitos to see the hot springs in the rocks on the shores edge. from this point a small group of us who had planned and extended trip (just in buggies) left for an additional 4 days and 600 miles south to Gonzaga Bay and beyond.
---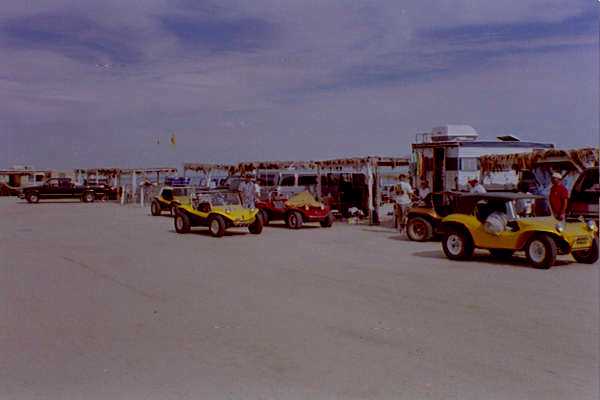 ---