Actiontec Dual PC Modem Development Daughterboard PCB
Actiontec Dual PC Modem Development Daughterboard PCB
Actiontec Dual PC Modem Development Daughterboard PCB
Actiontec Dual PC Modem Development Daughterboard PCB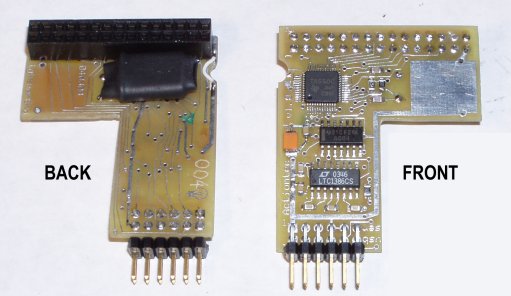 The Actiontec Dual PC Modem Development Daughterboard PCB layout is up and running. This PCB provides the Actiontec Dual PC Modem with an uClinux console (115,200 baud, RS-232 levels), plus a USB port for bootstrap recovery:
Note that the v1.1 PCB layout corrects two PCB layout "clearance problems. There were no changes to the original v1.0 electrical schematic required.
You can automatically fill out and order form for all the electronic components you will need for 10 boards from DigiKey by using this form. Total cost is about $170, excluding shipping costs.
You can order the minimum quantity of 3 boards (with three Actiontec PCB's per board) from ExpressPCB for about $61 including two-day shipping and tax. This quick-turn service provides three two-sided PCBs with no solder mask in three business days, their "MiniBoard" service. You will have to cut the PCBs to size yourself.
Total cost is therefore about $25 per PCB in lots of nine. You will need basic surface mount assembly experience to successfully assemble this PCB.
At this point in time "you are on your own" in that this PCB is not for sale in an assembled and tested form. However, you are welcome to make your own from the information provided here. This PCB will allow you to make an Actiontec Dual PC Modem suitable for development and/or normal operation because unlike the same PCB (not supplied) from Actiontec, everything can be placed inside the existing plastic enclosure. Here are some photos showing how I did it.
You can find more information here on the Embedded Linux Wiki site regarding the Actiontec Dual PC Modem

Note that I've found that a "reset" switch is really not needed.
---
Send mail to Bruce D. Lightner at lightner@lightner.net.

Last updated Sun Mar 28 20:08:59 PST 2004